Climate risk considered
Reduced rainfall, increased temperatures, increased fire risk, increased frequency of extreme events
Sector
Consultancy and local government
When the risk research firm Risk Frontiers began work on the 'Blueprint for a Resilient South-East NSW' project, they turned to NARCliM to get the data they needed to develop a comprehensive picture of regional climate risk.
'NARCliM is a great product and it's so good to see these data made available for Australia. It helps us to build a picture of where we are and where we are going,' says Dr Stuart Browning, climate risk scientist with Risk Frontiers.
The blueprint project is led by the Canberra Region Joint Organisation in partnership with local, state and federal governments, with funding from the NSW and Australian governments. The project provides climate change adaptation directions, tools and resources for communities, councils, organisations, households and businesses. 
The NSW Climate Change Adaptation Strategy states, 'The project will empower councils to act, help embed climate change in decision-making, provide training to build capability, implement priority projects and build the case for investment in resilience.'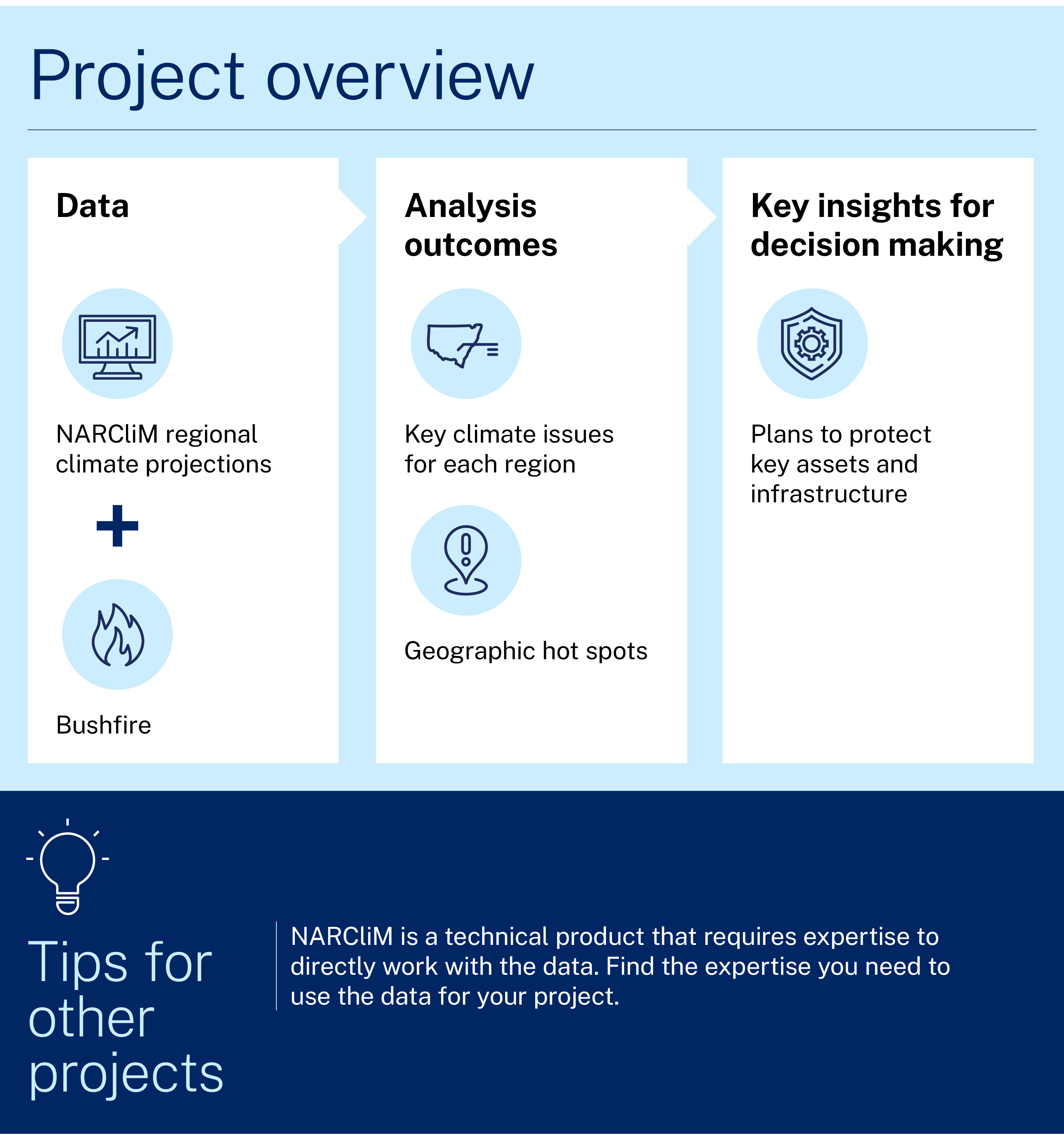 Project and outcomes
Risk Frontiers used NARCliM's climate model data to develop detailed climate projections for each of the 11 local government areas (LGAs) involved in the project.
Stuart found that NARCliM provided the wide range of data needed for the project. He says:
The blueprint project is looking at risk across sectors, so we used many of the variables available in NARCliM. For example, we used the temperature data to create a map of daily temperatures, and a calculation of how many heatwave days we would see in the future. Sometimes we combined the data in different ways. For example, we calculated our own fire danger index by putting together temperature, rainfall, and wind speed data.
All of these data combined to tell a story of regional climate change and the risk factors that councils need to consider to develop resilience. Stuart says:
We provide information on the potential stressors and shocks for each region, and what their key issues or geographic hot spots are. This will inform a regional roadmap of resilience to inform their risk processes going forward.
Using Risk Frontiers' NARCliM research, the project is now working to engage and inform councils. Melinda Hillery, Senior Project Officer with the NSW Office of Energy and Climate Change, reports the first stage has been very productive. She says:
The first products from this project have been council and community workshops and councillor briefings for each of the 11 LGAs, to present and discuss the research findings for their LGA. The workshops have discussed the concepts of resilience, risk and exposure, and how they might protect the values and assets in the region that are important to people.
The next stage will be even more important - implementation. How councils and local agencies take the information and use it will be critical. The information provided to councils is designed to feed into their decision making processes, and the research and workshop results will be drawn up into a regional roadmap for climate change resilience, with a chapter for each LGA.
Local councils are not the only clients for Risk Frontiers' NARCliM work. 'We also do catastrophe loss modelling for the insurance sector,' says Stuart. 'Traditionally we have relied on historical data for this, but we can now add in NARCliM to build out risk projections for the future. We try to use the latest and best data, and NARCliM provides that.'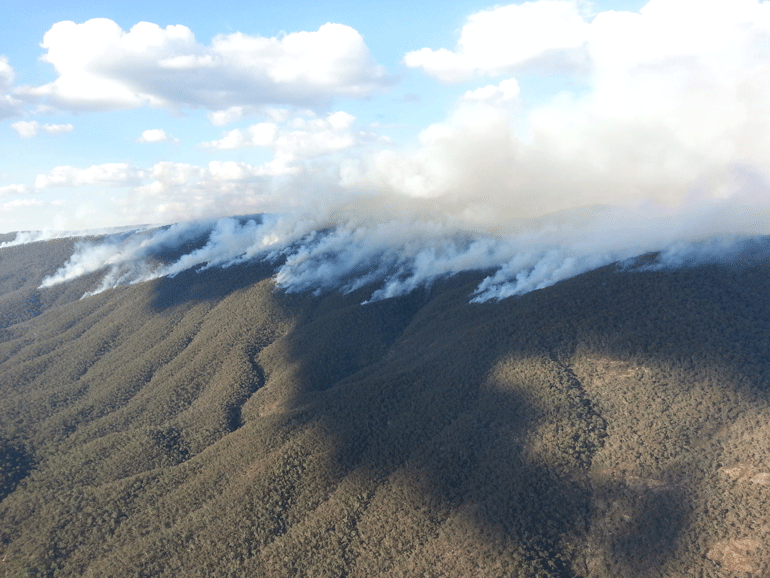 Learnings and considerations
Stuart appreciates the wide array of variables and the robust nature of the data available in NARCliM, and the availability of supporting information. He says:
We rely heavily on published literature. One of the good things about NARCliM is that there are many published papers that use and evaluate the models and variables, so that we - and our clients - can be confident about the results we are producing.
Although Stuart found that working with NARCliM data was easy and all the data were formatted to international standard frameworks, he emphasised that he was trained in climate modelling and data analysis, and that expertise was needed to work with and interpret the results.
He advised that one area other users should be aware of was the bias-corrected version of the data, which compares historical and model data and adjusts the modelled data for a closer match. The NARCliM team runs its own bias correction process to check that the modelled climate data align with historical records. However, due to the diversity of NSW landscapes and climates, the accuracy of bias-corrected data can vary with different locations and timescales. Bias-corrected data may also not be available for all NARCliM simulated climate variables.
The Risk Frontiers team found that, for their specific purposes, the uncorrected NARCliM data were more suitable than the bias-corrected data, and they also developed their own bias-corrected dataset.
Stuart also advised that large amounts of NARCliM data can be programmatically downloaded from the Earth System Grid Federation and National Computational Infrastructure. This was a benefit for this project as it was working with terabytes of data.
The primary repository for NARCliM data is the NSW Climate Data Portal, which historically limited downloads to 1-gigabyte per user session. Portal users can now download larger amounts of data, however, larger amounts have a higher risk of timing out before the download is complete.