Key points
Most greenhouse gas emissions in NSW are from the energy sector. This includes emissions from power stations and transport.
Overall, emissions in NSW have decreased over recent decades.
Emissions from energy has increased since 1990; and all other sectors have decreased. The largest decrease has been in land use, land use change and forestry.
The Australian and NSW governments are working to reduce emissions. The NSW Net Zero Plan and Electricity Strategy are key parts of this work.
Types of emissions in NSW
In 2019, around 141 megatonnes (Mt) of carbon dioxide equivalent (CO2-e) was emitted in NSW, excluding the land sector. The main sources were:
stationary energy for electricity generation emitted 52 Mt (37% of total NSW emissions)
transport emitted 28 Mt (20%)
agriculture emitted 16 Mt (12%)
stationary energy (other) emitted 15 Mt (11%)
fugitives from fuels emitted 13 Mt (9%)
industrial processes and product use emitted 13 Mt (9%)
waste emitted 5 Mt (3%).
Land use, land use change and forestry reduced total NSW emissions by 5 Mt (3%) as a result of more carbon dioxide being absorbed by plants than released from land use and land clearing.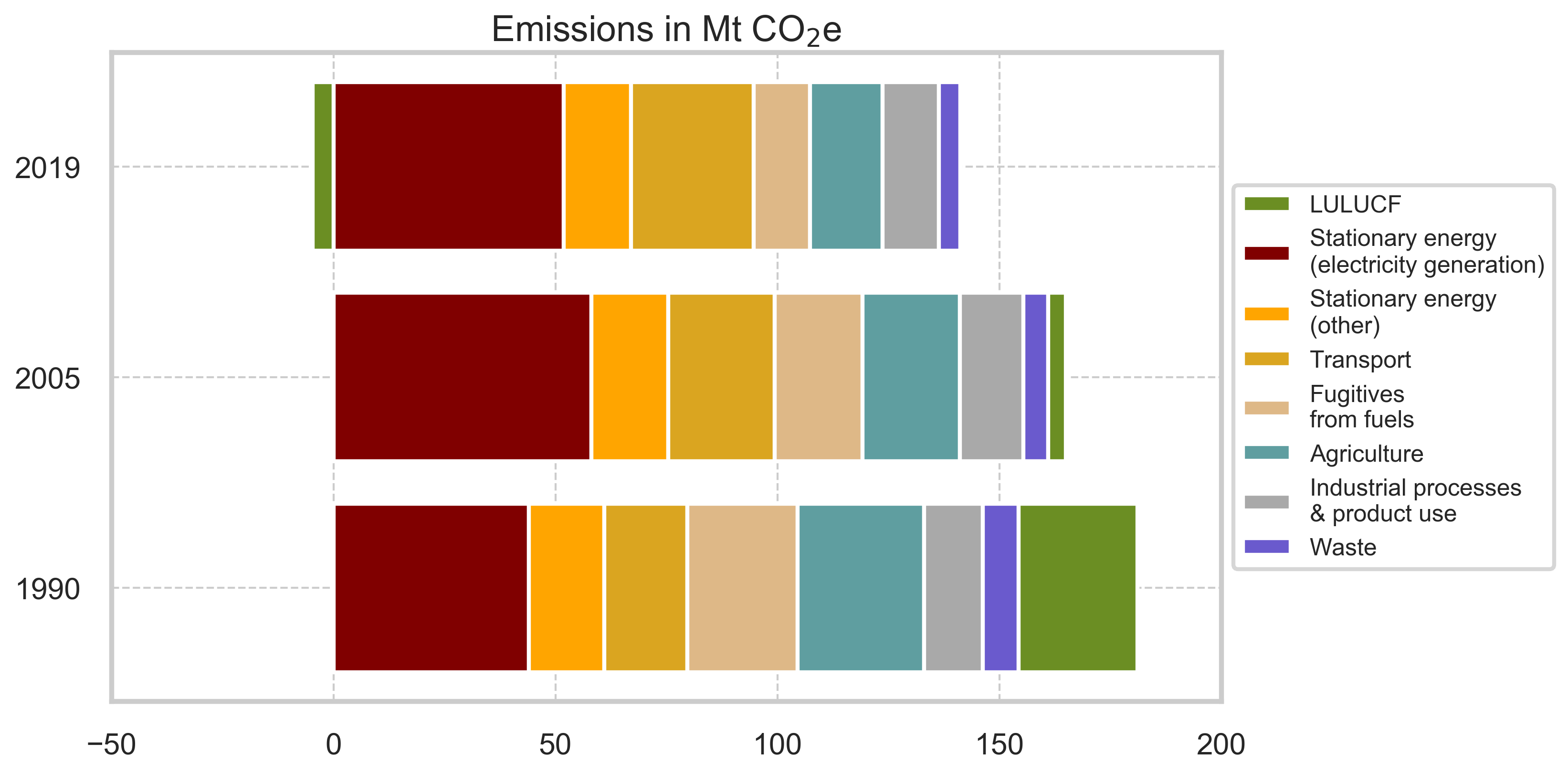 Like the rest of the world and nationally in Australia, most greenhouse gas emissions from NSW are in the form of carbon dioxide, followed by methane and nitrous oxide.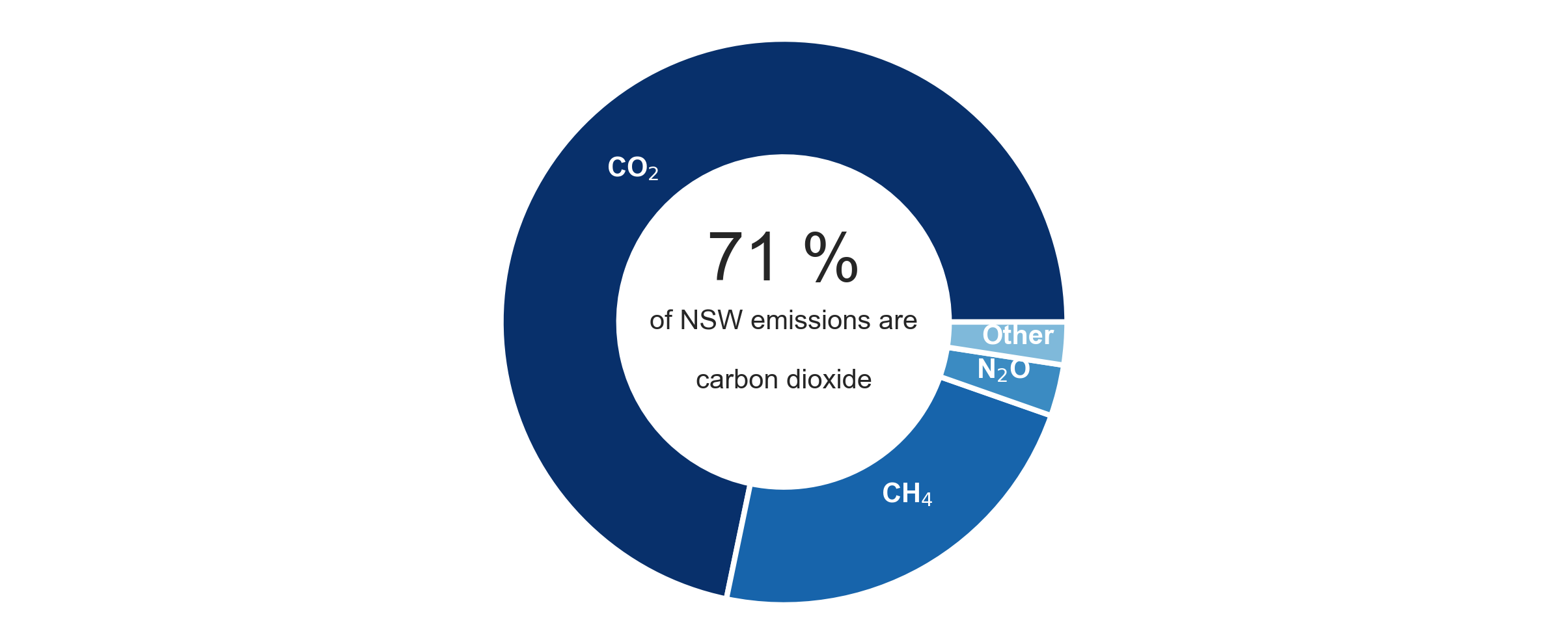 Trends in NSW emissions
Overall, total NSW emissions were 44 Mt CO2-e (or 25%) lower in 2019 than in 1990. Emissions from some sectors increased from 1990 to 2019:
emissions from stationary energy for electricity generation increased from 44 Mt to 52 Mt (18%)
transport emissions increased from 19 Mt to 28 Mt (48%).
All other sources decreased over the same period:
land use, land use change and forestry emissions decreased from +27 Mt to −5 Mt (117%)
fugitives from fuels emissions decreased from 25 Mt to 13 Mt (49%)
agricultural emissions decreased from 29 Mt to 16 Mt (43%)
waste emissions decreased from 8 Mt to 5 Mt (41%)
stationary energy (others) emissions decreased from 17 Mt to 15 Mt (10%)
industrial process and product use emissions decreased from 13.2 Mt to 12.8 Mt (3%).
Since 2008 emissions from electricity generation have decreased due to the growth in renewable energy generation, whereas transport emissions have continued to grow.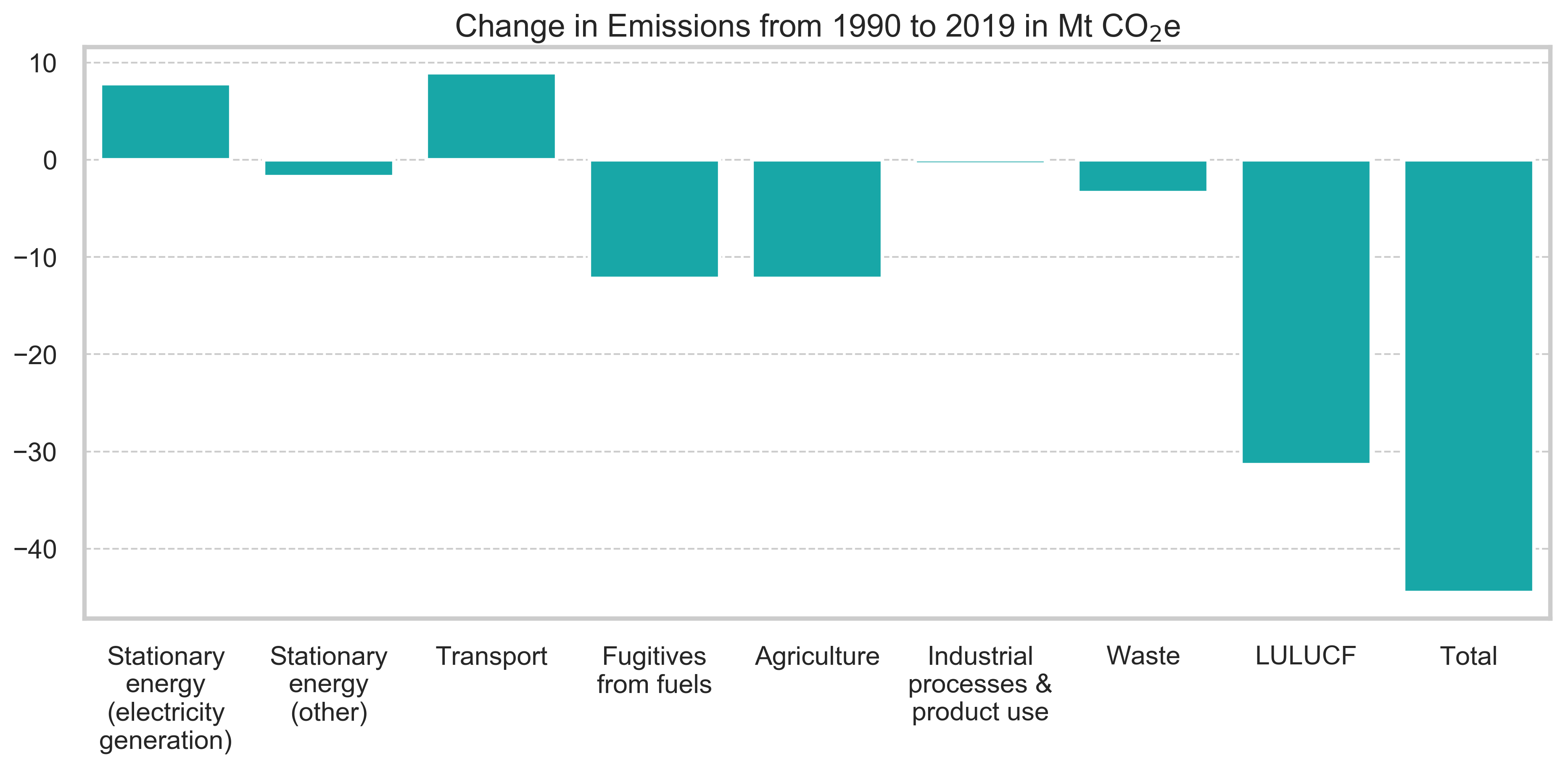 How NSW compares with the rest of Australia and the world
NSW performs better than much of Australia on an emissions per person basis. NSW emissions were about 18 tonnes CO2-e per person in 2018. This is below the national average of 22 tonnes per person. 
NSW greenhouse gas emissions represent about one-quarter of Australia's total emissions, while NSW is home to around one-third of Australia's population. 
But NSW and Australia still lag behind the rest of the world. Per-person emissions in NSW and Australia are much higher than the average for other high income countries (10 tonnes CO2-e per person, as recorded in 2016 by the World Bank).
What NSW is doing to reduce emissions
Australia is a signatory to both the Kyoto Protocol and the Paris Agreement, and our governments are working to reduce our greenhouse gas emissions.
The NSW and Australian Government have a memorandum of understanding (MoU), that sets out how the governments will work together to increase gas and electricity supply, at the same time as reducing emissions.
NSW has also developed the Net Zero Plan and Electricity Strategy within the Climate Change Policy Framework for NSW.
Net Zero Plan Stage 1: 2020–2030 is the foundation for NSW's action on climate change. It outlines the NSW Government's plan to deliver a 50% cut in emissions by 2030 compared with 2005 levels, laying the foundation for progressing towards net zero emissions by 2050. The plan supports various initiatives targeting:
electricity and energy efficiency
electric vehicles
use of hydrogen as a transport fuel and as a replacement for fossil fuels in industry
opportunities to reduce emissions and sequester carbon from primary industries and land management
reduced fugitive emissions from coal mining
reduced organic waste to landfills 
carbon financing.
The NSW Electricity Strategy is the NSW Government's plan for reliable, affordable and sustainable electricity. The strategy includes:
delivering Australia's first coordinated Renewable Energy Zone
saving energy, especially at times of peak demand
supporting the development of new electricity generators
setting a target to bolster the state's energy resilience
making it easier to do energy business in NSW.
Building on the NSW Electricity Strategy, the NSW Electricity Infrastructure Roadmap will help reduce NSW electricity emissions by 90 Mt CO2-e over the period to 2030.
The NSW Electric Vehicle (EV) Strategy will drive sales of EV to more than 50% of new car sales by 2031, preparing the NSW road network for a low-emissions future. 
The Climate Change Fund also provides support for local councils, households and businesses to reduce emissions, improve energy efficiency and increase climate resilience.