Key points
NSW's North Coast region is one of the most ecologically diverse areas of NSW. It contains world heritage rainforests, 9 major river catchments, and vast beaches. The North Coast's environments support iconic towns and thriving tourism and agricultural industries.
Climate change is already affecting the North Coast, particularly through increased temperatures. Projections show temperatures are expected to keep rising, rainfall patterns will change, and fire weather will increase.
The NSW Government is helping the North Coast adapt to climate change through the Enabling Regional Adaptation work. This is being achieved by working with state and local government stakeholders to identify key aspects of the North Coast region that are vulnerable to climate impacts, along with challenges and opportunities to adapt.
Importance of the NSW North Coast
The NSW North Coast region extends from Port Macquarie in the south, up to the Queensland border in the north and to the Great Dividing Range in the west. It includes the regional centres of Coffs Harbour, Grafton and Lismore and the towns of Ballina, Byron Bay and Tweed Heads.
The region in one of the most biologically diverse in NSW, containing much of the state's rare and threatened plants and animals. It includes a range of national parks including World Heritage listed Gondwana rainforests, and many culturally important sites that are significant to the Traditional Custodians of the region.
The North Coast supports a diverse range of industries that are vital for NSW's economy, such as fisheries, tourism, construction, and agricultural industries such as macadamia and sugar cane farms.
These environmental, economic and cultural values are just some aspects of the region which have been identified as being highly vulnerable to climate change. Climate change is already affecting the North Coast, particularly through increased temperatures. The impacts of this can be seen through the widespread bushfires of 2019–2020, which burned through many North Coast national parks including World Heritage listed rainforests.
How the North Coast is affected by climate change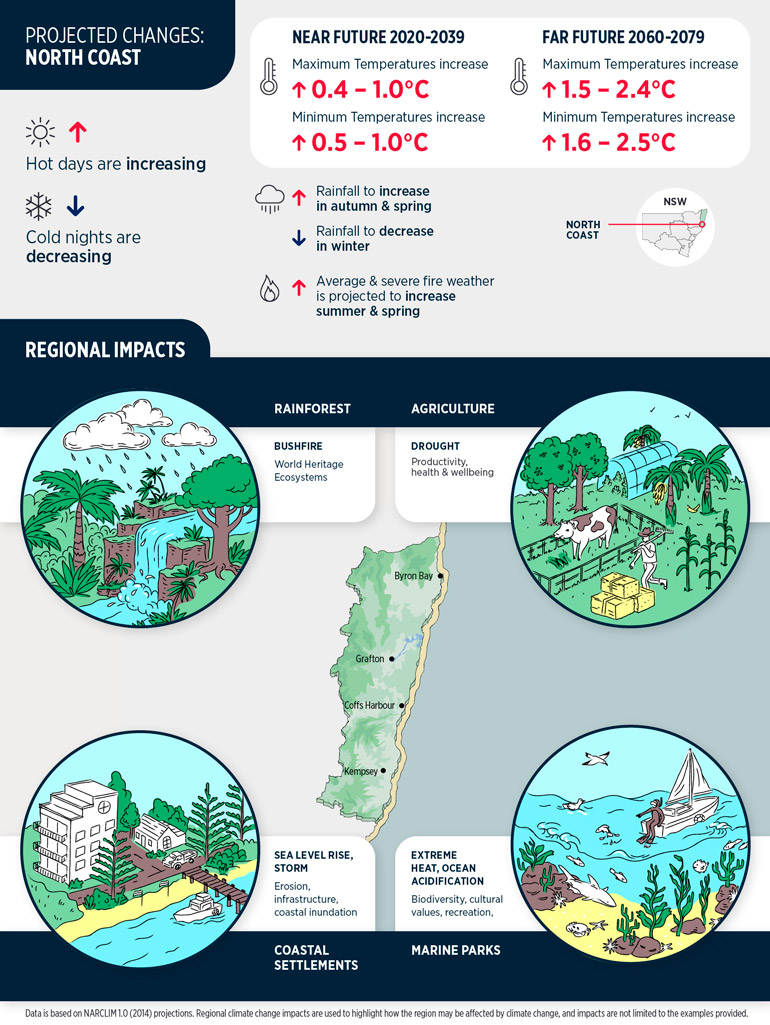 Based on long-term (1910–2011) observations, temperatures have been increasing in the North Coast Region since about 1970, with higher temperatures experienced in recent decades.
The North Coast Region is projected to continue to warm in the near future (2020–2039) and far future (2060–2079), compared to recent years (1990–2009). The warming is projected to be on average about 0.7°C in the near future, increasing to about 2°C in the far future. The number of high temperature days is projected to increase, and the potential frost risk is expected to decrease.
The warming trend projected for the region is large compared to the natural variability in temperature and is similar to the rate of warming projected for other regions of NSW.
The North Coast currently experiences considerable rainfall variability across seasons and from year-to-year and this variability is also reflected in the projections.
Summer will see the greatest changes in maximum temperatures, increasing by 2.1°C in the far future. Increased maximum temperatures are known to impact human health through heat stress and increasing the number of heatwave events.
Rainfall is projected to decrease in winter and to increase in autumn and spring. Severe and average Forest Fire Danger Index is projected to increase. Severe fire weather is projected to decrease in autumn in the near future.
Detailed information on the projected climate changes for the North Coast can be found in the North Coast Climate change snapshot or explored further through the interactive climate projections map.
Adapting to changes in the North Coast
To help the North Coast adapt to the impacts of climate change, 166 state and local government stakeholders were brought together in 2018 as part of the NSW Government's Enabling Regional Adaptation work.
These participants collaboratively identified how different economic, sociocultural and environmental aspects (also known as systems) in the region are vulnerable to climate change. For each of these systems, the vision for a climate-resilient future was identified, and opportunities for action were co-designed. These opportunities can be implemented by state and local government, businesses or community groups.
The North Coast Enabling Regional Adaptation report provides a resource for state and local government and regional communities to understand how climate change will continue to impact the region and our values. It also provides potential opportunities for governments, businesses and communities to adapt to climate change.
The following opportunities for action reflect potential options for state and local government, businesses or community groups to implement. This list has been summarised from the North Coast Enabling Regional Adaptation report. These opportunities provide a starting point for action and will be reviewed and updated to ensure they continue to reflect climate trends, key vulnerabilities and community values.
Settlements and land-use planning
Vision
New settlement areas consider future community risk, infrastructure needs and climate responses. In collaboration with local government, the community is empowered to lead change.
Opportunities for action
Educate the public on the climate risks facing their region, by developing information that is relevant to their needs, easy to understand, and easy to find.
Ensure that future development planning includes mixed land-use parcels.
Integrate local employment opportunities into planning, reducing the need for long commutes.
Create climate risk education packages and professional development opportunities for key decision-makers.
Resilient communities
Vision
Resilient communities are interconnected, diverse, healthy, inclusive, well-prepared and connected. Regional employment becomes more equitable and communities are well-supported by emergency management planning and support services.
Opportunities for action
Involve Aboriginal communities in co-design, partnerships and knowledge exchange for key decision-making processes.
Educate government and industry to help them promote sustainable communities and ownership of the natural environment.
Increase services and resources that empower people to take ownership of their own health and wellbeing during extreme climate events, such as flood, heatwaves, bushfire, drought and storms.
Create networks to link skills, knowledge and expertise across the region to support community resilience.
Cultural heritage
Vision
Aboriginal culture, knowledge, land management and voices are valued, considered and embedded across all government service delivery areas.
Opportunities for action
Create opportunities to embed Aboriginal voices in climate policy, practice and education.
Fund and support cultural heritage management, education and training for communities to build their capacity in cultural advice and protection.
Create programs that support Aboriginal knowledge and sharing so that Aboriginal and non-Aboriginal communities understand and are involved with cultural heritage management.
Build networks, relationships and processes that enhance partnerships with Aboriginal communities.
Biodiversity
Vision
The North Coast biodiversity system is livable, healthy, adaptive and resilient with the protection of biodiversity establishing a sustainable future for the economy and industry. Natural ecosystems are holistically managed, and eco-tourism strengthens the region's economy.
Opportunities for action
Develop education programs for all citizens to increase recognition of the socio-economic value of biodiversity and eco-services (such as mental health and wellbeing).
Collaborate with communities to plan and deliver ecosystem management.
Develop a range of options and incentives to promote the protection, restoration and management of biodiversity and natural ecosystems.
Increase the use of information and technology, such as 3D-mapping and drones, for effective land management.
Create a wider focus on landscapes and ecosystems (rather than individual species) to prioritise high-value conservation areas.
Emergency management
Vision
Emergency management covers all climate-related hazards, such as bushfire, drought, flood, heatwaves, storms, sea level rise and erosion. Climate change is considered when addressing all phases of hazards: prevention, preparedness, response and recovery.
Opportunities for action
Explore new models for volunteering during hazard responses, to increase capacity for community-led response and reduce the fatigue of emergency management staff.
Create open-access resources such as hazard risk maps and effective insurance and disaster prevention structures, to help incorporate climate change into emergency risk management and planning.
Develop a knowledge management system to retain and transfer information and to record and help implement 'lessons learned'.
Educate and build local community capacity around risk management for climate hazards, to support self-reliant communities.
Food and agriculture
Vision
Food and agriculture are an environmentally sustainable and diverse system that harnesses renewable energy and balances environmental and production values. A strong local identity is created within the North Coast food and agriculture industry which is supported by improved climate resilient infrastructure and funding.
Opportunities for action
Develop low-cost ways to promote the sustainable and efficient use and management of water, fertiliser, drainage systems, soils, vegetation and energy.
Develop ways to help primary producers report on the status of productivity, animal welfare and best-practice management methods.
Educate the community on the importance of local primary industries to the regional economy and North Coast identity.
Design and create infrastructure to support existing and future industries of all scales and explore co-operative models that promote local produce.
Implement climate-smart farming techniques to build resilience and increase efficiency and productivity of key agricultural industries, such as macadamia, blueberry and sugar cane.
Infrastructure and water
Vision
Infrastructure, IT and transport networks are up-to-date, reliable and resilient to the climate change impacts facing the North Coast.
Opportunities for action
Revise state policies and economic regulation (cost–benefit analysis) to help embed climate risks in infrastructure planning and decision making.
Promote flexible and strategic planning through regular review processes.
Adopt renewable energy options and emerging technology for resilient and low-impact infrastructure.
Undertake climate change risk assessments across critical infrastructure to identify where climate impacts on one infrastructure system may have flow-on effects to other systems.
Ensure future infrastructure meets what the community need, to protect them from climate change impacts and assist in building resilience.
Establish a process of collaborative knowledge sharing between all stakeholders.
Energy
Vision
The security and provision of reliable base load energy in the face of climate change. The energy network is sustainable, with zero-carbon electricity and transport, with enhanced grid reliability. Regional communities are self-sustaining, with clean energy providing employment and contributing to a thriving circular economy.
Opportunities for action
Create a platform that enables the energy market to adopt alternative technologies, such as battery storage, wave generation and hydrogen.
Develop practical guidelines to increase energy efficiency in houses and buildings.
Develop partnerships between industry, research and technology to develop energy technology solutions.
Promote greater support for government energy awareness programs.
Tourism
Vision
Tourism in the North Coast region is sustainable, dispersed, unique and experiential. The North Coast region is established as an arts, culture, Indigenous experience and food destination.
Opportunities for action
Create a regional tourist dispersal plan, where well-known destinations (such as Byron bay) are matched with funding for nearby regional infrastructure.
Develop a transport plan with options to increase rail trails and improve public transport.
Develop educational material and business development platforms to help build the ecotourism and sustainable tourism markets.
Provide funding and incentives to encourage the tourism industry to explore sustainable offerings that build on the North Coast's strengths and contribute to the local character.
How we've been adapting so far
With the knowledge and partnerships gained through the North Coast Enabling Regional Adaptation work, there is an opportunity for council, government and communities to show leadership and consider this work in their plans to respond to climate change.
Some opportunities for action are already being addressed by government, community, households and business, to help the North Coast adapt to the impacts of climate change and build a sustainable, productive and equitable future.
Specific examples of this work include the Transition North Coast Working Group which has been established to deliver projects, provide strategic advice and support the implementation of North Coast Enabling Regional Adaptation.
Other examples include the projects supported by the Building Resilience to Climate Change grants and Increasing Resilience to Climate Change grants.
The Enabling Regional Adaptation work has already been used to inform government planning in the North Coast through the North Coast Regional Plan 2041. Incorporating this work into regional and state plans ensures climate change risks specific to the North Coast are included.
If you have an example of how a community group, business of local government is adapting to climate change, email AdaptNSW so we can share your story.