Adaptation tool(s)
Cooling solutions, sustainability
Find out how De Bortoli Wines is reducing its greenhouse gas emissions, operating more sustainably, and saving hundreds of thousands of dollars each year
We are thinking about the impact of our business 'from grape to glass' to ensure De Bortoli Wines thrives for future generations.

- Lindsay Gullifer, Health Safety and Environment Manager, De Bortoli Wines
With a history stretching back to 1928, this fourth-generation business is focused on the future – and that means embedding sustainability and climate adaptation into its business model.
De Bortoli Wines has reinvented its approach to irrigation with innovations in wastewater management that have inspired Australia's wine making industry to not waste a precious drop.
Using Wine Australia's climate atlas as a guide, we are diversifying our planting and looking at grape varieties that are less susceptible to heat to spread our risk. We are also investing in technology and innovation so that we are irrigating the vineyards at the right time and far more efficiently.

- Rob Glastonbury, Operations Manager, De Bortoli Wines
Wine Australia's climate atlas shows that all 71 of our nation's wine regions must adapt to hotter conditions, as temperatures may increase by up to 3oC by 2100. Aridity, which encompasses both rainfall and evaporation, is also projected to increase in most Australian wine regions.
To adapt, many Australian vineyards are increasing the efficiency of irrigation. But De Bortoli Wines in the New South Wales Riverina is taking this much further. By embracing innovative techniques and advanced technology, De Bortoli Wines is reducing greenhouse gas emissions operating more sustainably and saving hundreds of thousands of dollars each year.
The story starts in 2005, as De Bortoli Wines embarked on an expansion program that would ultimately double the capacity of the winery.
"Our winemaking processes can use up to 140 million litres of water each year, and that wastewater would produce an odour that people could smell 16 kilometres away during the vintage period. We knew we couldn't expand without addressing this odour issue," Lindsay explains.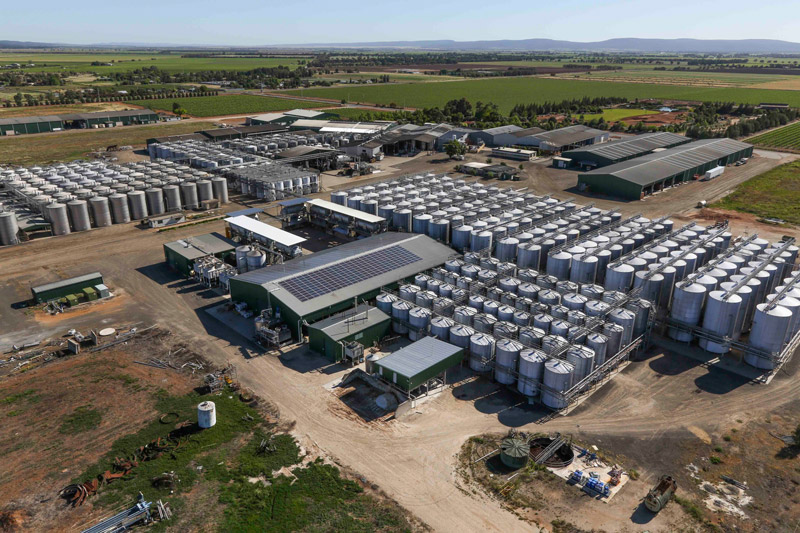 The decision to reduce the amount of wastewater "sitting in the sun to evaporate", set in motion a whole-of-business improvement cycle, where everything from viticulture to bottling was scrutinised through a sustainability lens.
The first step was to replace the sodium used to clean winery tanks and machinery with potassium. This allowed De Bortoli Wines to use the wastewater, which now contained potash (a common agricultural fertiliser), to grow crops like sorghum, wheat, oats and rice. The sale of these crops offsets the costs of wastewater management at the winery.
At the same time, De Bortoli Wines invested in a low-energy aeration facility that uses 90 per cent less energy than traditional blowers to treat wastewater. "We've saved up to $200,000 a year in energy costs for 12 years now while also reducing our emissions," Lindsay explains.
We started new conversations about the industry's use of sodium in irrigation and were Australia's first winery to use wastewater to grow crops. We are still developing our approach but are committed to creating a closed loop system.

- Lindsay Gullifer, Health Safety and Environment Manager, De Bortoli Wines
While the new system resolved the odour issue, a new problem emerged as up to 10 tonnes of excess potassium began to build up on the farm. After much experimentation, the De Bortoli Method was born – a circular approach to winemaking that reduces caustic chemicals from the winery's washwater.
After five years in development, the De Bortoli Wines team has built a factory-scale pilot of the system, that uses a form of electrolysis to produce a potassium hydroxide cleaning solution. Trials indicate the approach is viable for full-scale operation, and the goal is to recover and reuse 50% of the winery's materials.
De Bortoli Wines has achieved many gold medals in the sustainability space, and was the first NSW business to be recognised as a Sustainability Advantage Platinum Project. It was the first Australian winery to install a large-scale solar energy system and the first to use solar hot water for bottle warming, which allowed for sparkling wine to be packaged in a single operation.
The company's sustainably-produced 17 TREES label is accompanied by a commitment to plant one tree with every six bottles sold. "This builds upon one of our first sustainability projects in 2008 to plant 17 trees for each company vehicle to offset the carbon associated with our fleet. We've planted nearly 30,000 trees so far," Rob explains.
The De Bortoli family has now set its sights on an even more ambitious project – an entirely organic wine operation. By the end of 2020, 6.2% of the De Bortoli Riverina vineyards were organic, reflecting the family's motto, 'Semper ad Majora' or 'always striving for better'.
Related Information
Wine Australia's climate atlas