Climate risk considered
Increased temperatures, reduced rainfall, extreme events, sea level rise
Sector
NSW Government agency (zoo)
Ensuring there's enough water in the moat may not be a common challenge for those preparing for changing climate conditions. But it is one of the challenges being addressed by the climate risk process being undertaken by Taronga Conservation Society Australia in running zoos in the Sydney coastal suburb of Mosman and the Great Western Plains of the Dubbo region.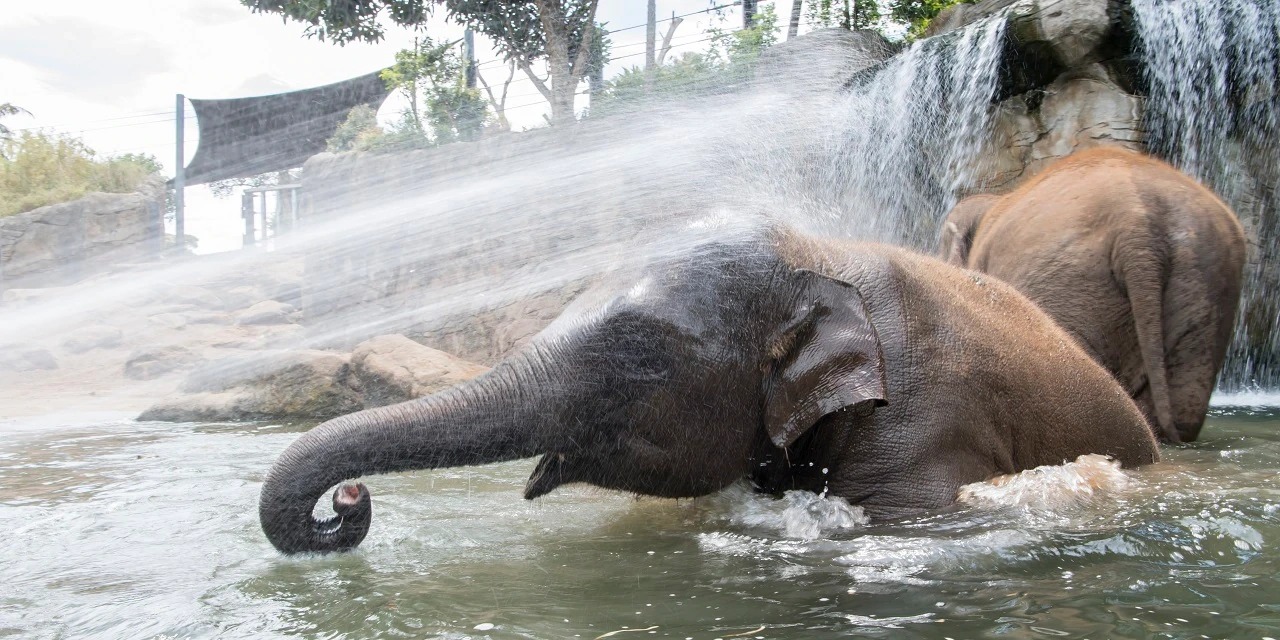 Taronga's Environmental Sustainability Manager is one of the leaders of a project to identify current and future climate risks for the zoo, including for its operations, infrastructure, animals, staff and visitors. They explain that many of the main climate risks, such as bushfire and drought, had been identified within organisational risk processes but not tagged specifically as 'climate' risks. 
Undertaking a dedicated climate risk identification process with stakeholders across the organisation helped us to understand just how far-reaching the impacts of climate change will be. It also highlighted a lot of impacts that weren't yet formally recognised as risks, like the impact of dust storms.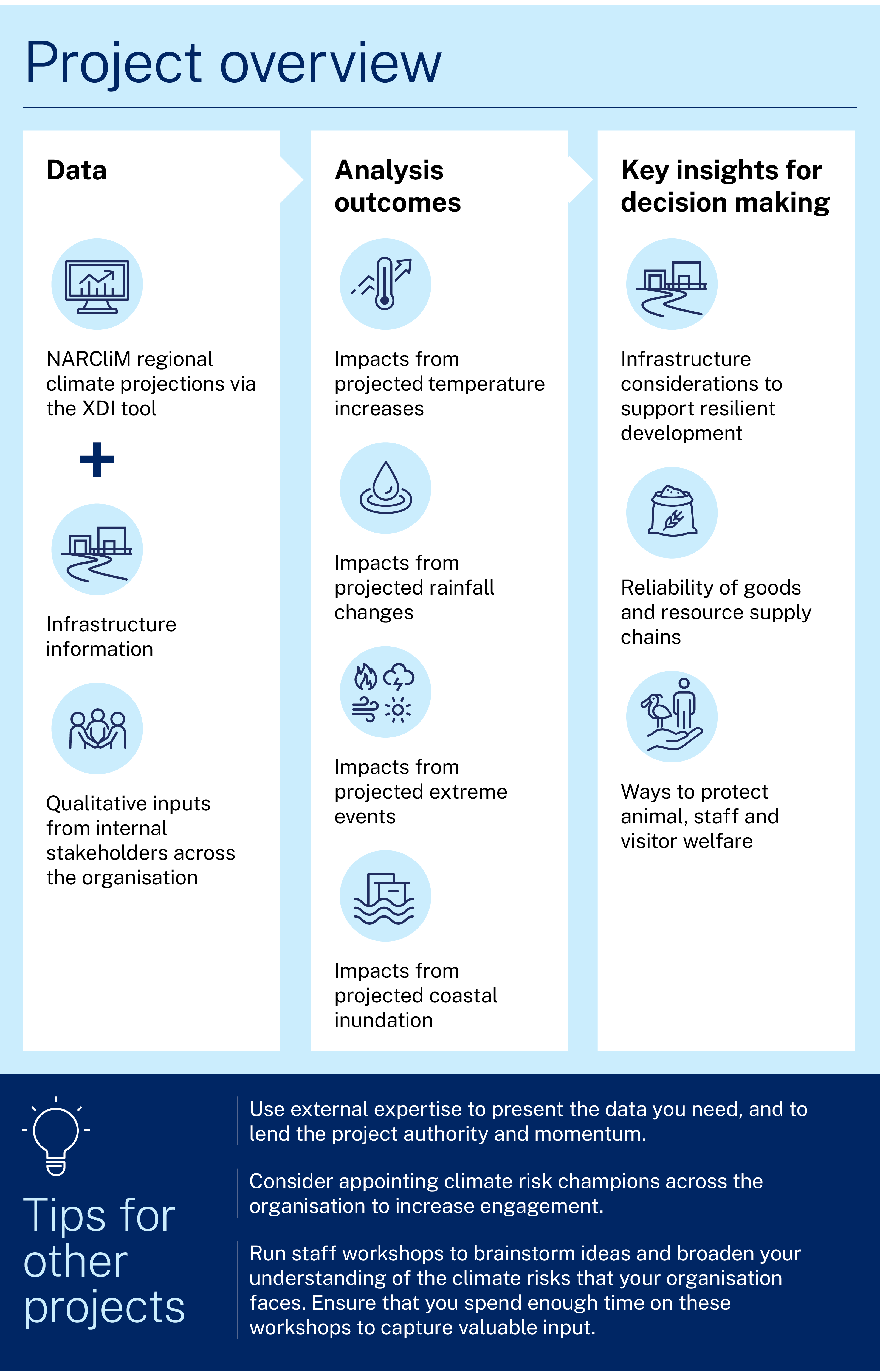 Project and outcomes 
The project firstly drew on the resources of the NSW Government's team that supports government agencies to conduct climate risk assessments. With the help of the team, Taronga's Environmental Sustainability Manager and Governance Manager presented climate projections data relevant to both sites to all zoo managers. This was followed by internal workshops with 'climate champions' (who were nominated from each business unit by the leadership team) to draft suggested changes to existing risks to better integrate climate change, as well as draft some new climate-related risks. Then, a 'plenary' workshop was held with decision-makers across the organisation, which included breakout groups that explored the likelihood and consequences of the risks and impacts identified through the Climate Risk Ready NSW process. 
The main risks identified for Western Plains Zoo were drought and bushfire. We also identified new risks such as dust storms and the number of days that will be over 35 degrees – both of these are expected to increase markedly with climate change. 
Without proper mitigations, rising temperatures may affect the welfare of the animals, staff and visitors. They may also affect food availability – we spend about $2 million on animal feed each year, and the supply chain can be easily affected by drought or floods. We are looking to source food locally and already grow our own 'browse' [a term used by zoos to describe edible plants, shrubs and trees] in local plantations, but these are vulnerable to climate risks too. 
For Sydney, rain and storms are bigger risks, with high rainfall projections. Some of our infrastructure is also at risk from sea level rise and storm surges, such as the water intake wharf for our marine mammal enclosures. 
The project is now moving on to the second stage of climate risk adaptation. The zoo's Governance Manager says that step one was about identifying the risks, while step two will be about identifying controls and treatments to mitigate the risks. 
We are engaging the relevant internal risk owners in the planning process to see how we can embed climate measures into operational plans as part of our risk governance process. We will also be involving the climate risk champions in the process so that the whole organisation is engaged. 
Looking at everything from a climate change lens really added to our risk framework – it made it more complete. The process gave us a good chance to review all risks, and putting in the time and effort was a valuable exercise for the organisation. 
Taronga will continue to integrate the risk controls into organisational processes as part of resilience planning. There are a few ways that climate risks are already being addressed in the organisation. For example, any new developments must meet environmentally sustainable design guidelines, and a water resilience working group has been established.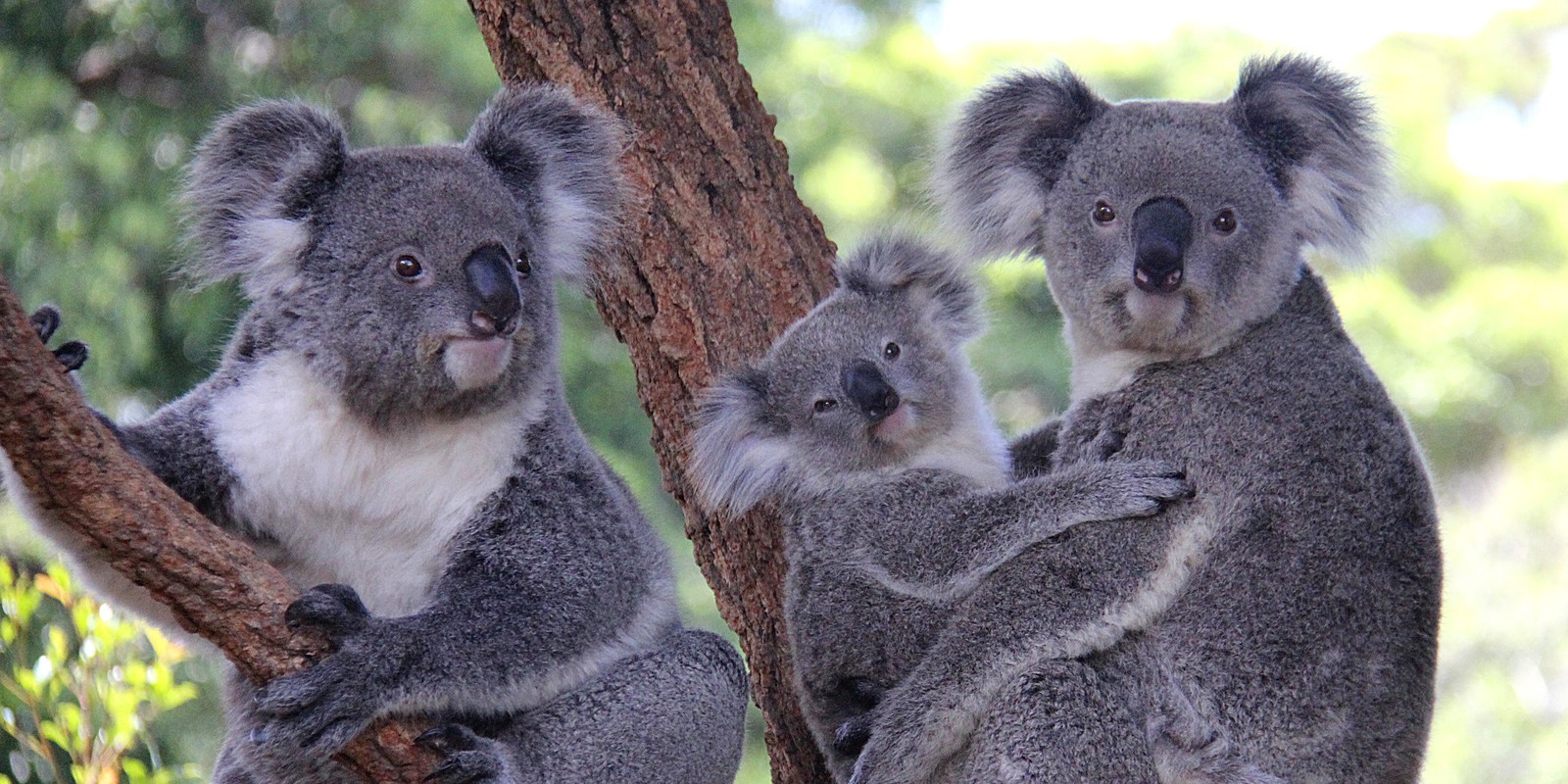 Learnings and considerations 
Taronga's Environmental Sustainability Manager says that the initial processes and resourcing were key to getting the project started. 
The support from the NSW Government was essential to get us to where we are now. One of the key principles of risk management is to use the best available data, and the NSW Government team offered this (through NARCliM). 
And even if we could have sourced the climate projection data ourselves, hearing it from external experts gave it more weight and really brought home to the team both the risks and the urgency of action. This increased buy-in to get people thinking and on board. 
If any organisation was undertaking a similar process, I'd recommend devoting ample time to engaging staff and hearing from them. Our workshops and breakout rooms were invaluable – people could brainstorm in small groups and raise risks that may not have been thought of earlier. We could have got even more out of the workshops if we had run them for longer.