Eighty per cent of Hawkesbury residents are concerned about climate change. After living through catastrophic bushfires and successive floods, local climate advocate Tanya Ritchie was one of those concerned residents.
Whether it's how to prepare for fire, plant trees, cope with stress, recover from flood, go solar, respond to emergencies, connect with your neighbours or lobby government, we all have something useful to teach and to learn about living well in these challenging times.

Tania Ritchie, Project Manager, Hawkesbury Resilience Project
As she looked for avenues to understand how she could understand, prepare and adapt, Tanya started joining the dots between a range of like-minded organisations and groups in her community.
"By connecting with each other and sharing stories, we can learn new and positive ways to respond to climate change," Tania says.
The Hawkesbury Resilience Project brings together resources, experiences and talents from Western Sydney University, Hawkesbury City Council, Hawkesbury Environment Network, Macquarie Electorate Student Climate Activists, Penrith-Hawkesbury Environmental Educators Network and RCE Greater Western Sydney.
Facts and figures only get us so far, says Jen Dollin, Head, Sustainability Education at Western Sydney University.
"We wanted to appeal to hearts, not heads. We started by asking people to tell us how climate change makes them feel. Having heartfelt community conversations doesn't point the finger – but it is very powerful."
The education, engagement and empowerment program delivered multiple touch points at the personal, village and regional levels, Jen explains.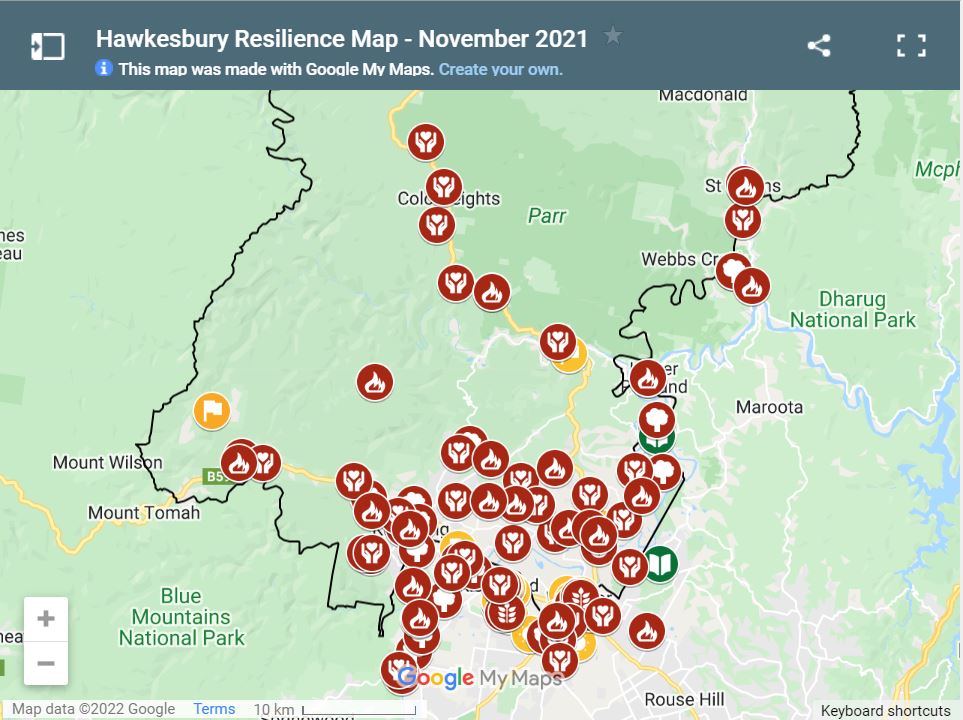 Western Sydney University drew upon the skills of geography masters students to develop an interactive resource, the Hawkesbury Resilience Map. This helps community groups to create connections, share knowledge and build social infrastructure needed to survive and thrive in a changing climate. Downloaded more than 2,000 times, the map gave residents a basis to learn about action that was already taking place in the region.
The digital engagement of the overall project – which included print resources, a 'one-stop-shop' website, social media, digital marketing and more –attracted more than 103,000 impressions. A communications arts student worked on the social media campaign materials, which in itself was an "authentic learning experience," says Western Sydney University's Sustainability Coordinator, Brittany Vermeulen.
A series of forums and workshops directly engaged with 138 residents and 11 volunteer community climate leaders are now active in their own communities. A successful "climate café" drew on the concept of the First Nations yarning circle and the UK Death Café model to sit down and share concerns. Sixty-seven per cent of participants in a solar energy workshop delivered online with Hawkesbury Earthcare Centre and the Hawkesbury City Council said they were more likely to install solar after attending the forum.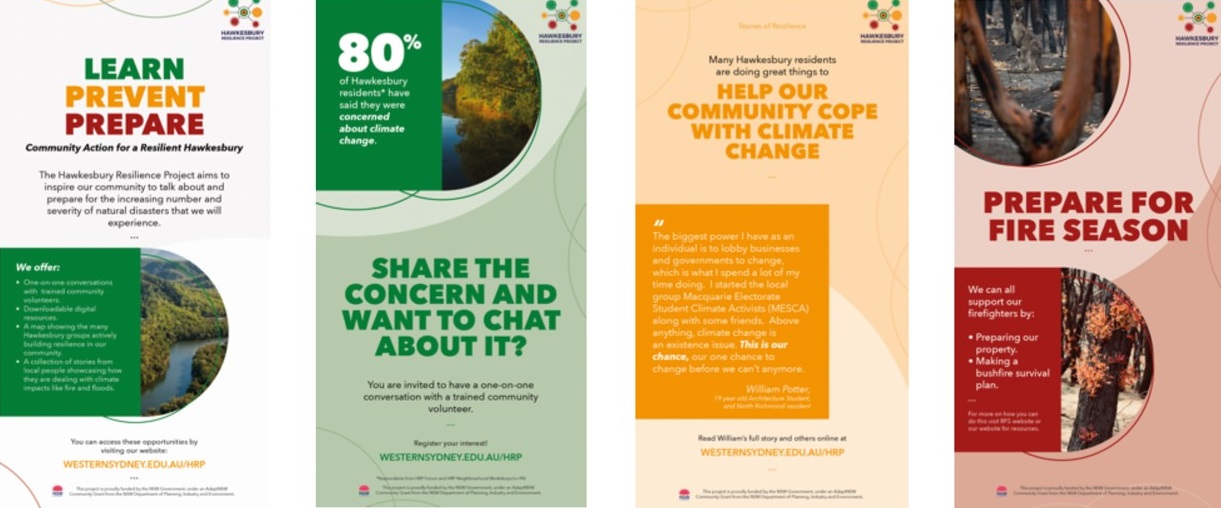 The Hawkesbury Resilience Project also provided seed funding for four community-led projects from a leadership capacity building course to a campaign to instill hope and agency among young people.
Another touchpoint, Stories of Resilience, was inspired by the words of Dr David Suzuki: "One of the most important things you can do about climate change is to talk about it".
Among the personal stories from community leaders is that of Craig Burley, Group Captain of the Hawkesbury Royal Fire Service, who shared his thoughts about the catastrophic floods and fires he had recently witnessed. There's the story of Pastor Stephen Kearns, who has watched farming families leave their land because between "fires, droughts and heavy rain saturations" they can no longer thrive in the harsh climate. And there's retired geography teacher Helen Sobiesiak, who has roots stretching back to 1827. After experiencing the Black Summer bushfires, Helen became determined to "make a contribution" to a "better world for our kids, our grandchildren".
Stories of Resilience has since received further funding from by the Hawkesbury City Council and will become part of the Hawkesbury Regional Museum's permanent collection.
"The evidence is clear. We are living through ecological devastation – and that can be overwhelming. People can feel powerless, but doing nothing is not an option," says Jen.
"The Hawkesbury Resilience Project shows how a series of small steps can help people to learn, prevent and prepare, so they can respond effectively to climate change."
Our project brought together all types of people that are passionate about their place. We didn't start with the big story of climate change as something happening 'out there'. We started with local stories of what is happening here.

Jen Dollin, Head of Sustainability Education, Western Sydney University