When botanist Jo Green and a team of volunteers began drafting a guide to help people restore their land and gardens after the devastating bushfires of 2019 and 2020, flood was far from their minds.
Gardeners and land managers are stewards and guardians of complex ecosystems and can make a difference in the fight against climate change.

Jo Green, Brunswick Valley Landcare
The Northern Rivers – a biodiversity hotspot rich in flora, fungi and fauna – was hit hard by the Black Summer bushfires. Jo, a member of Brunswick Valley Landcare and skilled botanist with three decades of experience under her belt, started fielding questions from locals looking to build fire and drought resilience on their lands.
"People wanted to address habitat loss by bringing it into their own gardens – but many didn't know which plants to choose for fire-prone areas," Jo says.
With the help of local vegetation specialists from Southern Cross University, Byron Shire Council and members of Brunswick Valley Landcare, Jo and her team began to audit surviving vegetation and 10 years of plantings to compile lists of fire-resistant and drought tolerant species.
"We were amazed at which species survived. Some plants have an evolutionary memory that allows them to adapt to fire – and that was fascinating to see."
Fire isn't the only threat to the region's biodiversity. As Australia's climate changes, the North Coast Region can expect more hot days and longer fire seasons, and more intense rainfall events. As rainfall patterns shift, plants will bloom earlier and growing seasons become more unpredictable. Without care, pest species – like vine weeds and Lantana – are likely to thrive, and new plant and animal diseases spread.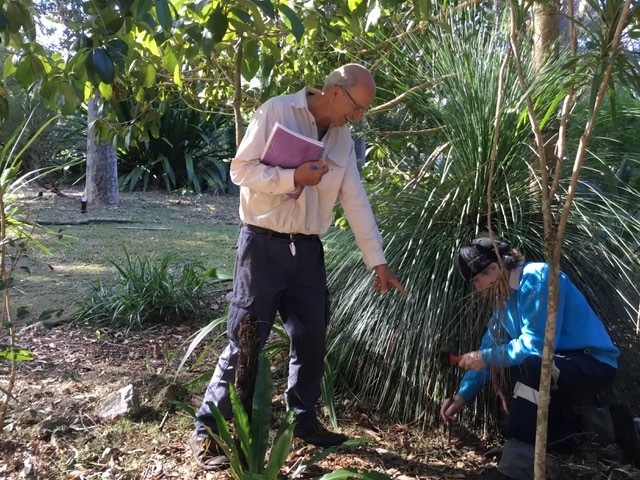 Climate Resilient Landscapes: A Planting Guide for the Northern Rivers Region was just weeks away from print when the February 2022 floods hit the region. "It seemed impossible that we'd ever finish the guide." But after pressing pause for the big clean-up, the editorial team regrouped and reassessed.
"We looked at the species that had survived the fires and were also resilient to the latest highly intense rainfall and floods," Jo notes.
Were there any surprises? "The Blue Quandong and the Water Gum survived the bushfires on the creek banks and then the intensity of water and huge rocks hitting them at speed. They are scarred but they have survived."
A new section of the guide was developed to help people recognise and revegetate landslips in the landscape. A workshop on landslides and creek bank erosion was also delivered.
In May 2022, more than 60 people gathered to launch the guide, although, as Jo says wryly, "we couldn't hand out printed copies because the Lismore printers got wiped out in the floods".
The guide recommends species that are resilient to drought, fire and flood, and are habitat and food plants for animals, birds, reptiles and insects.
The guide also includes the Aboriginal names of plant species to support cultural resilience.
This project has strengthened local knowledge and given people the confidence to grow their own climate resilient gardens.

Jo Green, Brunswick Valley Landcare
A demonstration site in Mullumbimby's Heritage Park has been established to complement the guide. This features plants for local gardens and revegetation projects that will be resilient to the effects of climate change.
Brunswick Valley Landcare are optimistic about the future of the region, despite the enormous challenges of climate change.
"People are hungry for information about native plants. I know it's cliché but knowledge is power – because it takes away the fear. After the floods and fires, the more I learnt the less I feared. The Climate Resilient Landscapes guide is one way we can be proactive about the future."