Who it affects
Communities, local governments
Adaptation tool(s)
Climate smart design, scientific monitoring
Learn how living seawalls can help marine biodiversity while protecting coastal areas from sea level rise. Creating 'natural' seawall surfaces provides habitat for marine life
When we improve the quality and complexity of seawalls in our estuaries, we also improve biodiversity.

- Jaimie Potts, Senior Environmental Scientist, NSW Department of Planning, Industry and Environment
Seawalls are commonplace lines of coastal defence that can help protect human assets from coastal erosion and sea level rise. Seawalls in our coastal lakes and harbours serve a clear purpose, but their smooth surfaces and artificial materials are at odds with the complexity of natural shorelines.
As sea levels rise, our coastal communities will need to adapt. Living Seawalls is using smart design to enhance ecological value and meet the challenges of a changing climate.

- Jaimie Potts, Senior Environmental Scientist, NSW Department of Planning, Industry and Environment
Living Seawalls, a flagship project from the Sydney Institute of Marine Science, installs panels that mimic 'microhabitats'. These provide marine creatures and seaweeds with habitat to colonise and grow, including crannies and crevices that serve as refuge.
One living seawall features 90 habitat panels bolted onto two 12-metre stretches of Sydney Harbour seawalls at Rushcutters Bay. These interlocking panels attract a host of marine life. Oysters and mussels, for example, improve water quality while seaweeds provide food and sequester carbon.
It is better to build with nature in mind from the outset. But Living Seawalls is doing the next best thing by retrofitting existing seawalls with 3D printed tiles that mimic microhabitats commonly found on natural shorelines.
"Artificial seawalls tend to be flat, vertical structures but we rarely see flat vertical walls in nature. Natural rock surfaces have lots of overhangs and complex ridges that provide places for sea animals to hide and seaweeds to gather," says Jaimie Potts, Senior Environmental Scientist at the NSW Department of Planning, Industry and Environment.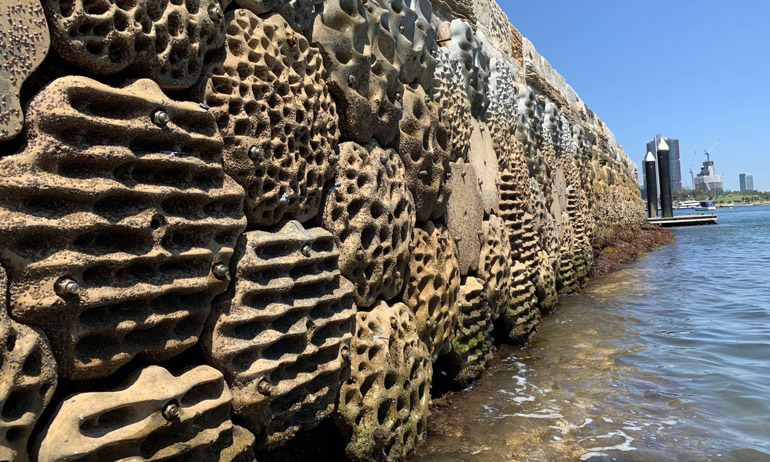 The team, which includes Dr Mariana Mayer Pinto from the University of NSW, Dr Katherine Dafforn and Associate Professor Melanie Bishop from Macquarie University as well as Dr Maria Vozzo from SIMS, is monitoring the Living Seawalls' habitat modules over time to understand how different microhabitats support biodiversity.
We are looking for ways to mitigate some of the issues of sea level rise in Sydney Harbour, but to do it in a natural way. It's a real shift in thinking said Jaimie Potts, Senior Environmental Scientist, NSW Department of Planning, Industry and Environment.
Another project with Lake Macquarie City Council is taking a 'soft' engineering approach by using cobbles to stabilise and protect coastal lake shorelines, rather than the traditional 'hard' engineering approach of concrete seawalls. 
The largest coastal saltwater lake in the Southern Hemisphere, Lake Macquarie covers approximately 120 square kilometres. The lake's 174-kilometre stretch of bays, beaches and headlands are dotted with nearly 100 towns and villages.
A potential sea level rise of nearly one metre over the next century would inundate large areas of low-lying land around Lake Macquarie. "Lake Macquarie is a really important fishery and ecological habitat. Because the lake is open to the sea, the shoreline will need more help in the future," Jaimie explains.
Using cobbles is a nature-based method of shoreline stabilisation that protects nearby homes and infrastructure. The team is also comparing the 'soft' and 'hard' engineering approaches to see which has better environmental outcomes. "When we use the cobbles, seagrass is still washed up by the wind and waves and can decompose naturally, for example," Jaimie explains.
"As part of the project, we're examining the biodiversity and sediment properties in the cobblestones and comparing the results with traditional seawalls. Our hope is that we will find new techniques that help communities adapt to rising sea levels without harming natural habitats."