Who it affects
Local government, built environment
Adaptation tool(s)
Citizen science, community engagement
Learn how Lake Macquarie City Council worked with local residents to trial ways to adapt to coastal flooding and future sea level rise
By engaging the community in the trials, we were able to build community support and better inform residents about the operation and effectiveness of the technology.

- Lake Macquarie City Council
Hundreds of homes and businesses sit at the edge of Lake Macquarie, one of Australia's largest coastal saltwater lakes located south of Newcastle. The risk to these communities due to the impacts of climate change is increasing.
Based on current projections from the Intergovernmental Panel on Climate Change (IPCC), Lake Macquarie water levels are expected to rise up to 0.9m by 2100.
Lake Macquarie City Council reported, "Low-lying areas of the Lake Macquarie local government area are already experiencing frequent flooding and tidal inundation due to high tides and storm surges. This inundation is expected to be more frequent and have larger impacts as sea levels rise, particularly affecting our most vulnerable sectors of society."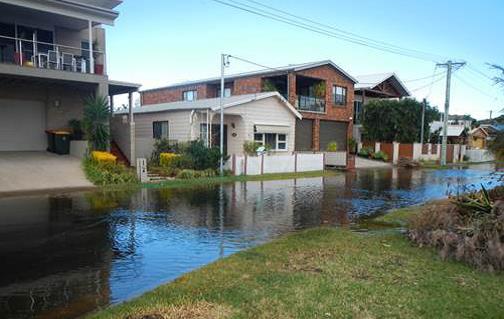 Since 2015, the lakeside communities of Marks Point and Belmont South have been working with the Council to understand the changes that a projected lake increase of 0.9m would bring.
Council expects that in those two suburbs alone, 4km of roads, 1.8km of drains and 22 hectares of foreshore land would be permanently flooded by the year 2100 unless the City adapts to climate change.
As part of the Marks Point and Belmont South Local Adaptation Plan (LAP), the Council trialled the use of tidal flaps on stormwater outlets to see if they could stop lake water from running up through the stormwater system and into the streets. The Duckbill flattened end opens to permit stormwater to pass. When pressure is removed, however, the duckbill end returns to its flattened shape, preventing backflow. The duckbill valve is similar in function to the mitral valve in the heart.
During the seven-month trial, members of the local community volunteered to observe whether the tidal flaps were working, by noting tidal and rainfall measurements available from nearby gauges and taking photos of any flooding events.
Residents reported flooding on four high tide events and several rainstorm events. While the flaps succeeded in stopping the lake from inundating the area during some high tides, they caused the stormwater system to backup during rainfall events resulting in localised flooding.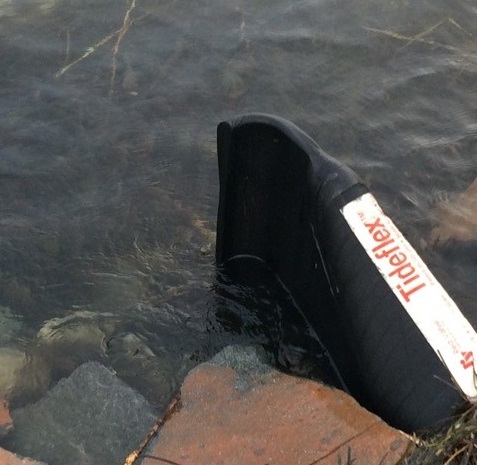 In consultation with the community, Council removed the tidal flaps after the trial, concluding that this particular design wasn't a suitable adaptation measure for this location. It was believed that the tidal flaps stopped functioning during a high tide when it coincided with a rainfall event. During these events, water pressure was too low to push stormwater through the tidal flaps. This caused nuisance flooding even with small amounts of rainfall.
While the tidal flaps didn't work as expected in this locality, the citizen science and community engagement did and there were valuable lessons learnt for future projects. Of the 120 households that were invited to take part in the monitoring, more than a quarter of the residents attended meetings and contributed to the trial.
The learnings from this trial have already been adopted in additional LAP programs undertaken by Council with the lakeside communities of Swansea, Pelican, Blacksmiths and Caves Beach. This includes the continuation of a co-design/citizen science approach to climate change adaptation, and the implementation of additional tidal gate pilot studies in areas that are expected to have suitable hydraulic conditions.
Council has continued positive engagement with local communities through surveys about localised flooding in an effort to find a balance between what is achievable based on the community's tolerance to water inundation, the potential impacts on our vulnerable members of society, and what can practically be achieved to adapt to these risks.
This project was funded by the NSW Government with support by Local Government NSW.