Who it affects
Communities, small business, schools, local councils
Learn why Parkes' urban wetland is a community asset and climate adaptation success story
Residents and visitors can visit the wetland to see and hear birds, insects and frogs, and watch bats fly in for a drink – and it's so close to the middle of our town.

- Michael Chambers, Environment and Sustainability Coordinator, Parkes Shire Council
One of the biggest climate change risks for Parkes is the predicted increase in the frequency and intensity of rainfall and storm events that will place a great strain on stormwater systems and waterways downstream.
As our climate changes, the frequency of downpours and extreme flooding events in some areas will mean more stormwater runoff – rubbish, organic debris, sediment, harmful nutrients and bacteria – into local waterways.
In response, Parkes Shire Council has embraced water sensitive urban design principles to rehabilitate a large stormwater channel. This was transformed into a biodiverse bioswale – or a vegetated channel – that flows into an urban wetland at PAC Park. 
Where we once had a narrow stormwater channel filled with weeds, we've created a large bioswale with a wetland that filters out large amounts of pollutants and debris before they get to Goobang Creek.
"Before the wetland was constructed, stormwater runoff had resulted in poor water quality, siltation and weed infestation in the waterway. Now, the wetland collects sediments and the water plant zone filters out harmful nutrients before they get to Goobang Creek," explains Michael Chambers, Council's Environment and Sustainability Coordinator.
After the waterway was dredged and shaped, Council teamed up with Landcare and the Parkes community to plant 20,000 native sedges, rushes, reeds and grasses that fringe the wetland edges.
We couldn't have created the wetland without the help of the community. All the planting was undertaken by volunteers, including school groups and businesses on team building days. This did more than save money. We got people involved and interested in the project.

- Michael Chambers, Environment and Sustainability Coordinator, Parkes Shire Council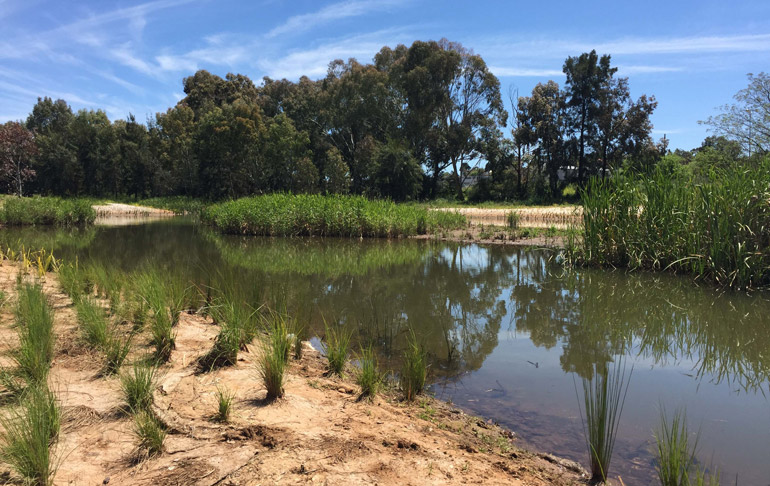 Today, PAC Park – named after the Parkes Advancement Corporation – has a thriving wetland home to native plants and animals, including birds, turtles, yabbies and frogs.
Aquatic plants, called macrophytes, provide cover and food for fish and other species, produce oxygen and filter the water. Some spots are thick with Typha, a signature wetland plant that "is doing its job to stabilise soils and filter out pollutants".
"Other areas of the wetland have been colonised by canopy species. Seeds have travelled from upstream and germinated in the perfect places. We couldn't have wished for more natural regeneration."
The people of Parkes love their new community amenity. "Council leveraged the project to apply for additional grants for barbecue shelters and seating which has expanded recreational opportunities on site," Michael adds.
PAC Park is also an 'outdoor classroom' for schools and community groups to undertake environmental education.
Signage installed along the wetland's walking tracks help visitors to learn more about the project and its role in climate change adaptation. "But most people just enjoy the wetland's aesthetic and recreational appeal."
Importantly, the wetland's effectiveness has been tested during storm events – and it passed with flying colours. "This channel carries about 90 per cent of the stormwater away from our town. It is definitely doing its job."
Council carefully monitors the wetland's water quality and expects to undertake additional dredging and planting over time as it collects sediment. "The wetland is an important part of our stormwater infrastructure – one that is integrated into the natural environment," Michael concludes.
This project was proudly funded by the NSW Government with support from Local Government NSW.