Adaptation tool(s)
Climate smart agriculture
Over the next five decades, the climate in the Yass Valley will get harsher, less predictable and more extreme.
As our climate changes, it may be like moving from Yass Valley to Forbes or Wagga Wagga or Gilgandra – from greener temperate areas towards browner semi-arid areas on the map.

Elizabeth Goodfellow, Program Convenor, Bowning and Bookham Districts Landcare
The gently rolling hills and grassland plains of the Yass Valley are just 60 kilometres north of Canberra. The region is criss-crossed with rivers – the Murrumbidgee, Yass and Goodradigbee – and is home to geological caves dating back 400 million years ago. The landscape is dotted with vineyards and alpaca studs, olive groves and sheep farms.
But according to AdaptNSW's climate snapshot, the South East and Tablelands region, where the Yass Valley sits, will be substantially hotter in the future. The Yass Valley will move from a cooler temperate climate to a semi-arid or dry summer climate. This is likely to mean more unpredictable rainfall and increases in extreme heat days.
"Our region has only just recovered from the last drought. But we need to make climate change an everyday conversation now so we can respond to its impacts and prepare for the future," says Elizabeth Goodfellow, Program Convenor for Bowning and Bookham Districts Landcare.
With the help of a grant from the NSW Government, Bowning and Bookham Districts Landcare launched Let's Try It!. The program included 15 events on topics ranging from soil microbes to plant propagation to grazing, and engaged people in farm visits, nursery workshops, tree plantings, conversations about what is happening to the local climate and more.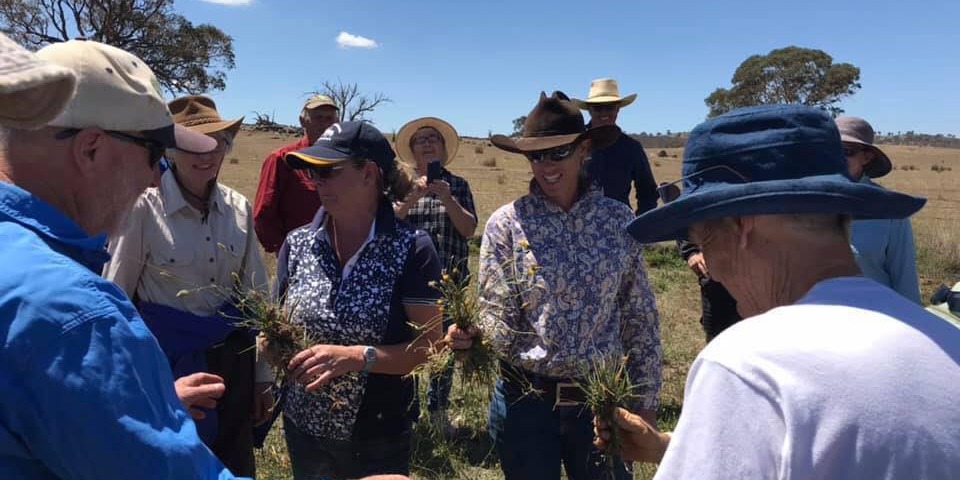 The name of the project speaks volumes. Let's Try It! encouraged people to learn about climate change and then experiment with different adaptation techniques. "By talking about what's happening in our local climate, and exploring ways we can respond, everyone can decide where and how they want to make a difference," Elizabeth says.
What do these experiments look like? People have planted 900 tubestock from climate-tolerant species to improve shade and biodiversity on their properties. Others have propagated local plants from seeds to see if they are hardier than those from other regions. They've started composting, using grazing charts or adjusting their rotational grazing to suit the seasons.
Elizabeth says climate change is now "infused" in the thinking of the Landcare group. "Many people in our community now recognise that climate change is our biggest challenge, and that there are many practical actions we can all take."
The 'secret sauce' to Let's Try It! was to harness both the skills of out-of-town experts and local leaders. "We found it critical to have local leaders as well as experts from elsewhere. People are willing to pay more to learn from experts, but without the local connections there is no way for people to ask follow-up questions or seek further support. You need both."
Let's Try It! has expanded the Bowning and Bookham Districts Landcare network to more than 100. "We are building a strong base. When you get to 100 people through the year, there's a quantum leap. We have a reliable crowd at all our events now and there's enough activity to keep people engaged, but it's still small enough for us to know each other and to organise with support from our group's local Landcare coordinator."
What's more, the group's social media network has grown from "non-existent to more than 500," Elizabeth adds.
We don't talk about temperature degrees or precipitation. Our aim is to have an approachable, consistent conversation about climate change, so people start to see it's part of what we must deal with on a day-to-day basis.

Elizabeth Goodfellow, Program Convenor, Bowning and Bookham Districts Landcare
The size of the network is substantial in a small community. "Taking an interest in climate change and sustainability can put you on the fringes of some farming communities. It's important that we offer people who are trying sustainable land management practices the support and opportunities to forge strong and local connections with like-minded people. It encourages us all to keep learning and keeps us keen to do more."
Bowning and Bookham Districts Landcare is now shepherding its community towards carbon neutrality and has promised to grow 185,000 trees – 200 for every person in the district.
Continuing the climate conversation is easy in times of drought, because the problem is so visible, Elizabeth admits. The challenge is to drive the dialogue before the next drought hits. "We keep reminding people that we have a small window of opportunity to make the most of amazing conditions so we can get through the next drought – because it's coming."