Wave after wave of eco-disaster – bushfires and floods, drought and a global pandemic – had left a generation of young people in northern New South Wales feeling hopeless about the future.
We need to help people come together to process their emotional responses to climate change and then to take their creative ideas to move forward and motivate others.

Dr Eshana Bragg, Director of The Joyality Project
In 2020, The Joyality Project and Byron Youth Theatre teamed up to develop and deliver a radical approach to climate resilience.
"Our emotional responses to climate change are healthy reactions to an unhealthy state of the world. Learning how to engage with our emotions can empower us to take positive action," says Dr Eshana Bragg.
An ecopsychologist and Director of The Joyality Project, Dr Bragg has observed "eco-anxiety" among young people at close quarters Two-thirds of parents and teachers who took part in one recent research project in the Northern Rivers said their children were experiencing moderate, high or very high levels of climate anxiety.
Byron Youth Theatre was looking to explore this eco-anxiety and had secured local funding for a two-part theatre production. The Joyality Project was determined to turbo charge the impact of the production and reached out to BYT Director Lisa Apostolides.
This was a "mega project" with many moving parts, says Dr Bragg, and "a powerful collaborative opportunity".
"The Joyality Project helps all people find empowerment, resilience and connection in the face of climate change, but we are passionate about young people aged between 16 and 25. It was an honour to work with the extraordinarily talented Byron Youth Theatre and other young leaders in our local community."
"We started with surveys, interviews and group sessions to understand where young people were coming from," Dr Bragg says. Lisa Apostolides translated these insights onto the stage in a powerful two-part production, How on Earth.
The theatre performance took the form of a series of verbatim stylised vignettes exploring different effects of eco anxiety. Byron Youth Theatre used dark comedy, poetry, choreographed sequences, monologues and dramatic scenes in Part 1.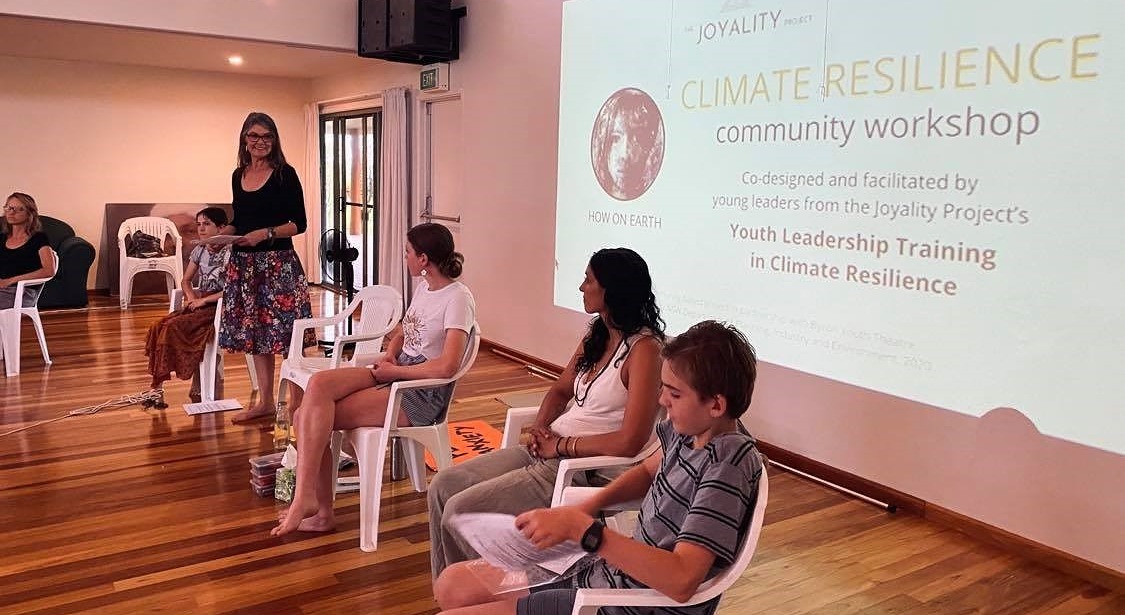 A full-length play was created for Part 2 using projections and a haunting soundtrack which follows a young woman and her friends connecting with a parallel world seeking answers to how they can navigate their changing world.
At the same time, The Joyality Project began training 18 local youth leaders, aged between 14 and 25.
The cohort attended a seven-week leadership program which "gave them skills to understand climate change and their own practice of resilience," Dr Bragg explains. They made strong connections and were "tooled up to help others build their own psychological and practical resilience".
Following the leadership program, one participant became a local community linchpin during the devastating Lismore floods. Another hosts a radio show and interviews change makers. Others focused on climate activism in schools.
As one graduate remarked: "I have gained so much more than just leadership qualities to help others, but personal strategies to deal with negative feelings toward climate change." Another said the training provided the confidence to "reach out and take action."
Three participants became workshop facilitators who took their learnings out into the community. "We now have an intergenerational team of facilitators helping people of all ages to process what they are experiencing as a result of climate change," Dr Bragg notes.
Despite Covid-19 challenges, young people from seven high schools across northern New South Wales watched original performances of Byron Youth Theatre's How on Earth (either Part 1 or Part 2) and then attended The Joyality Project's interactive, resilience-building workshops.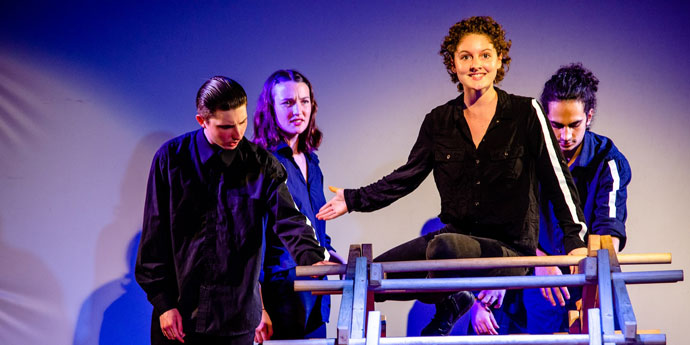 Two sold-out community performances of How on Earth were also staged in the Byron Shire in late 2020, and then toured the Clarence Valley in early 2021, with around 20% of the audience taking part in the complementary workshop.
The theatre experience was the "seed" for personal and collective explorations, and the workshops provided an interactive, creative and playful way to help people process their emotions, Dr Bragg notes.
"The workshops themselves are standalone, so they can be used to support theatre pieces, movies, or any other cultural activity about climate change. And our intergenerational team has since worked with a range of groups, from RenewFest to World Environment Day, to the Byron Youth Service's Conscious Movie Club."
Reflecting on an ambitious project that captured heads and hearts around her community, Dr Bragg's message is crystal clear: "The young people who are switched on to climate change need lots of support – both psychological and social – because they know there is a huge task ahead. We can't rely on standard rational responses. We need out-of-the-box solutions."
Theatre is a fantastic modality to explore and express creative responses. When supported with education, we can increase resilience, courage and knowledge to motivate and sustain adaptation and positive action.

Dr Eshana Bragg, Director of The Joyality Project