What would happen if a group of artists, scientists and landholders got together to teach climate adaptation?
Many artists are thinking deeply about climate change but don't know how to translate abstract ideas into action. Land Studio connects artistic practice with land restoration to show how it is possible to make a real difference to the landscape.

Laura Fisher, Kandos School of Cultural Adaptation
In 2016, Laura and nine other artists co-founded the Kandos School of Cultural Adaptation with the idea that creative perspectives would inspire fresh approaches to climate action and other problems.
Since then, KSCA has embarked on a series of ambitious collaborations with farmers, scientists, Aboriginal knowledge holders, chefs and rural innovators – and in 2020 established a ground-breaking pilot project, Land Studio, to test a new model of education.
Kandos is located near the Capertee Valley, a vast canyon that exceeds the Grand Canyon in size. The Valley is already experiencing climate change impacts and AdaptNSW's climate snapshot for the region predicts even greater weather extremes are ahead. Communities are preparing for hotter days, less rainfall and a growing threat of catastrophic fires, like those that fringed the Valley for months during the Black Summer bushfire season.
The Land Studio, which was developed in partnership with Capertee Valley Landcare, The Mulloon Institute and the University of Wollongong, aims to address the challenge with multi-disciplinary approaches to land restoration.
Two camps were held under the stars in September 2020 and November 2021.
"Our idea was to tap into the innate curiosity of art students to show how we can all play our part in healing land when we work together," Laura says.
A brush-pack working bee – in which large piles of harvested vegetation help to restore degraded land – gave participants a hands-on lesson in restoration. More than 100 trees were planted with the help of local Landcare volunteers.
"But Land Studio is not just about planting trees. Our aim was to embed manual tasks within an enriching educational and cultural experience," Laura explains.
A weaving project with Leanne Thompson, for instance, applied textile practices to create sculptures that also heal the land. Nests, vessels and ropes were made from native plant species and then placed on contours and in wet areas to support regeneration.
Participants made charcoal drawings of landscape features to understand fertility growth and decline, learnt Wiradjuri language and took part in a Wiradjuri-led water ceremony.
A clay modelling exercise, stewarded by local catchment model maker Gary McGuigan, saw participants craft the landscape as it may have been before European agriculture, as it is now, and as it could be in the future. This activity tested model-making as a vehicle to understand the science of the water cycle, catchment health and landscape rehydration.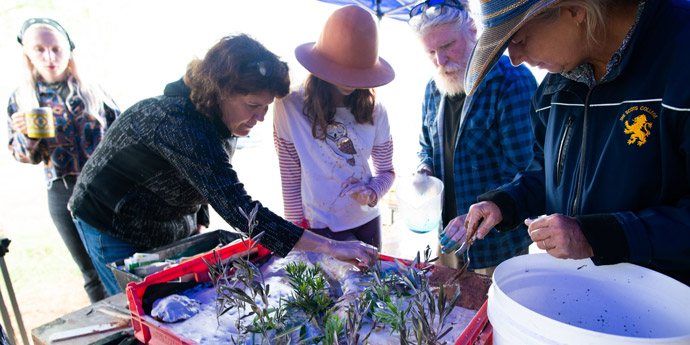 Landscape restoration experts shared their knowledge of landscape change and climate change impacts. A visit to a local artspace, WayOut, connected participants with artists and curators who are contributing to the cultural regeneration of the town of Kandos and surrounding region.
The project has strengthened relationships with landholders and local Landcare groups, and with the Traditional Custodians, the Wiradjuri people. "These relationships are alive and ideas are being exchanged for new projects," Laura notes.
"Land Studio demonstrates that environmental learning isn't restricted to the scientific and technical. You don't need a degree in environmental science to participate. In fact, we need many perspectives to restore land and build resilience."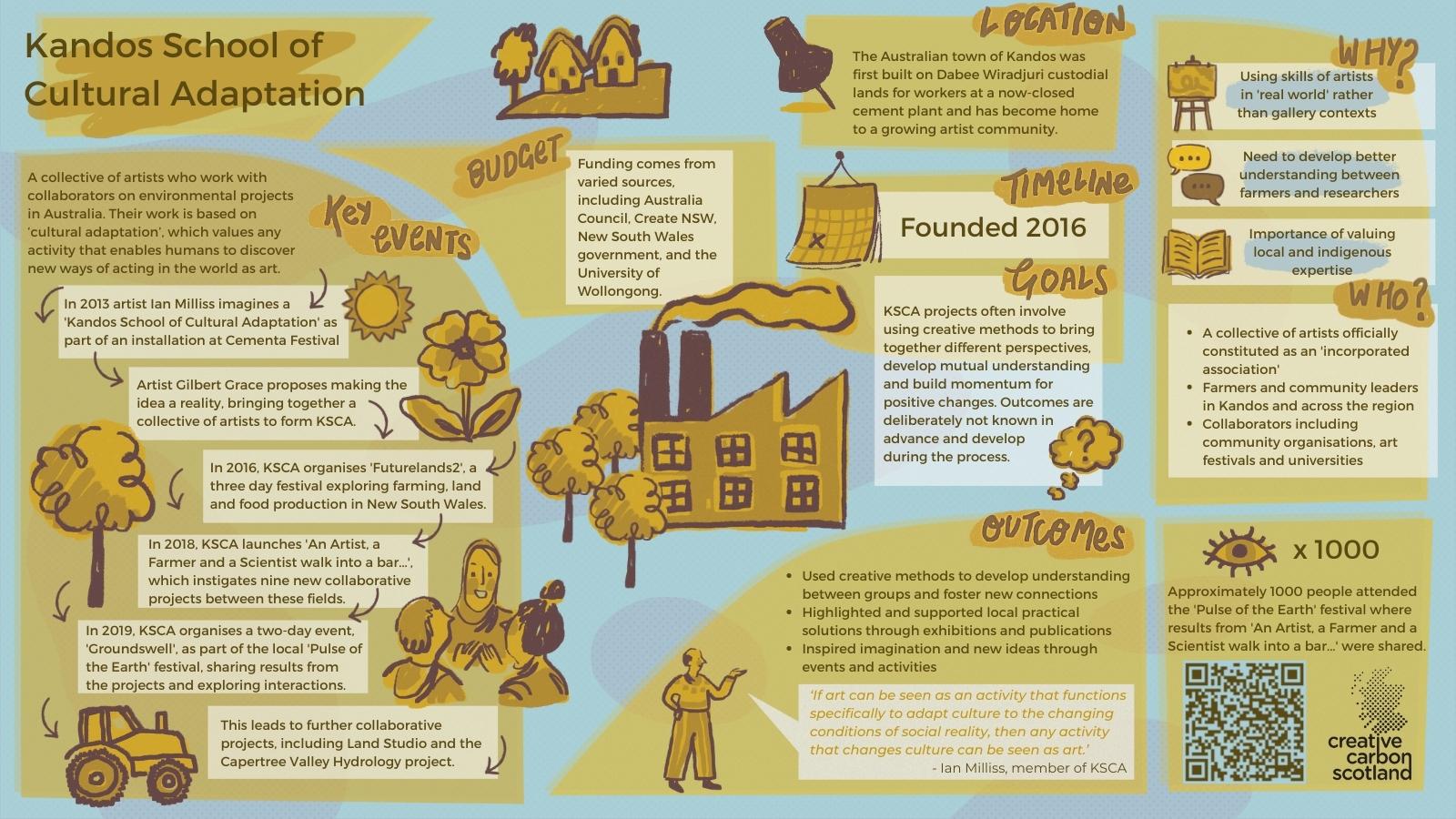 The Land Studio Pilot Project was funded by the NSW Government's Increased Resilience to Climate Change Community Grants Program.