Climate change effect
Extreme weather events, flooding, heatwaves
Who it affects
Residents, businesses, communities
Adaptation tool(s)
Climate smart design, NARCliM
Sydney Metro rail system considers climate change in its design, making it comfortable and reliable in a changing climate
Through careful planning we have made – and are still making – choices that set new benchmarks for the design, delivery and operation of climate resilient infrastructure.
The biggest urban rail investment in Australia's history, Sydney Metro, is being built to last a century – and that means considering climate adaptation every step of the way.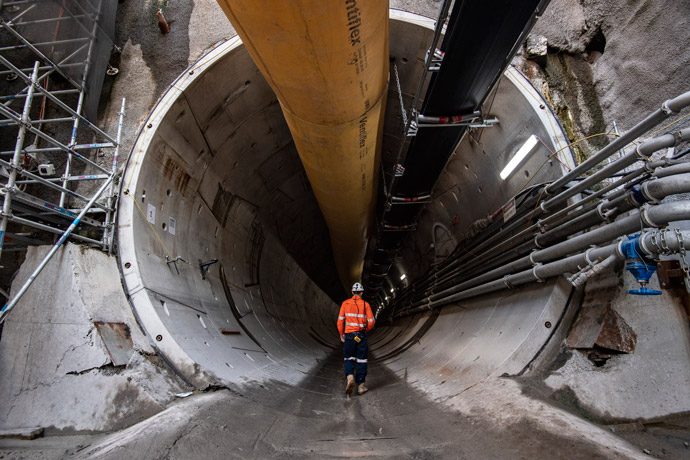 From heat reflective materials to permeable surfaces, natural ventilation to vegetation, climate adaptation has been embedded into Sydney Metro to support comfortable, reliable and safe services for the next 100 years.
To future proof Sydney Metro, we have considered climate resilience from business case development all the way through the asset lifecycle.
A new generation of world-class fast, safe and reliable trains promises to revolutionise the way people travel. In the meantime, Sydney Metro is revolutionising the infrastructure industry's approach to climate resilience and adaptation.
The first stage of the network – Sydney Metro North West, which stretches from Rouse Hill to Chatswood – has been up-and-running since May 2019. More than 12 million customer journeys were fulfilled in its first six months of operation.
The network is being extended under Sydney Harbour, through new underground stations in the CBD and beyond to Bankstown in the South West. It will also link the new Western Sydney airport with the rest of Sydney.
From the earliest stages of the North West project, climate risk was considered against three separate time horizons: short (2030); medium (2070); and long-term (2100). Using accepted climate change models, Sydney Metro identified high, medium and low climate risks.
For North West Metro flooding, heat waves and other extreme weather events were the three most relevant climate risks. The design of the network was adapted in response. For example, mission-critical equipment is housed in temperature-controlled rooms that can handle extreme heat waves, while ventilation systems in tunnels and stations were engineered to ensure customer comfort would be maintained even on the hottest days.
Water sensitive urban design also supports climate resilience. Most of the surfaces around the stations and along the tracks are permeable, which means they absorb rainwater and reduce the risk of flooding during heavy rainfall.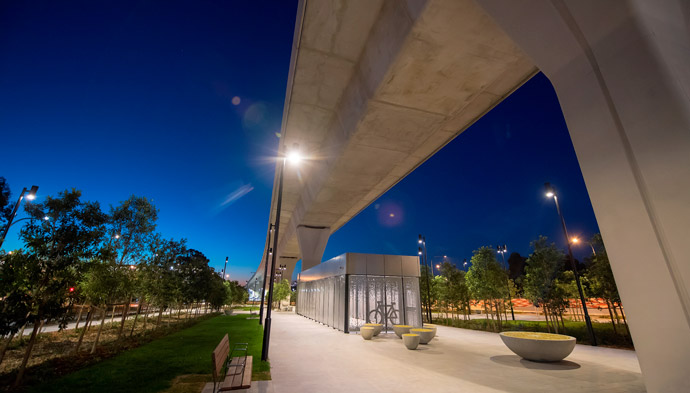 The magnitude of the North West Metro and subsequent stages represented an unparalleled opportunity to transform the entire infrastructure supply chain. By engaging with contractors, partners and suppliers, Sydney Metro has elevated the industry's knowledge and expectations of climate change adaptation and mitigation.
The North West Metro is also Australia's first mega public transport infrastructure project to offset 100% of the emissions from electricity used during operation.
Sydney Metro struck a purchase agreement to construct Beryl Solar Farm, in Gulgong in regional New South Wales. The farm's 250,000 solar panels cover 145 hectares, generating enough electricity to power around 25,000 homes every year. More than two-thirds of this electricity is used to offset North West Metro's operational electricity.  Separately, a 1.1-megawatt solar array as big as a football field was installed at Sydney Metro's headquarters in Rouse Hill. Together, these measures combine to support carbon neutral operations along the length of Sydney Metro North West.
This project was proudly funded by the NSW Government with support from Local Government NSW.