How do we avoid building homes that can only be cooled with constant air conditioning, making them expensive to run and a health risk during blackouts?
Most climate modelling relies on old data stretching back as far as 1970. Instead, we should be using future climate data to ensure we build homes that are comfortable and safe in a hotter climate.

Rachel O'Leary, Coordinator, Sustainability & Resilience, Waverley Council
"Thermal safety" is a phrase Rachel O'Leary says describes the challenge facing Australia's homes. "It really is a safety issue if people are living in homes that are too hot."
As global temperatures rise by a projected 2.5°C over the next century, Australian homes must adapt to withstand scorching summers, drier climates and more extreme weather events.
How do we prepare for this future? Randwick, Woollahra and Waverley councils, with the help of WSP, set out to answer this question.
By modelling the performance of buildings currently compliant with the NSW Government's Building Sustainability Index, known as BASIX, the researchers quantified the effects of climate change on building thermal performance, energy consumption, greenhouse gas emissions and water demand.
Five different residential building types – from free-standing dwellings to multi-storey apartments – were analysed under three different climate scenarios: a baseline year of 2020, "near future" change up until 2030 and "far future" change until 2070.
The results of the research came as a shock.
"The modelling found that, as the climate warms between 2030 and 2070, homes in Sydney's eastern suburbs will have little need for heating in winter. But cooling loads in summer are predicted to dramatically increase by 308% by 2070," Rachel explains.
"We are blessed with sea breezes in the eastern suburbs and the research results still show our homes will be uncomfortable without mechanical cooling by 2030. This is a real equity issue, as not everyone has access to or can afford to run air conditioning."
The second phase of the research, Adaptations to Residential Building Design, tested design solutions that could improve thermal comfort based on future climate scenarios. Many of these design solutions are simple and, in some cases, centuries old. Think cross-ventilation that allows the sea breeze to circulate through the home, solar shading and light-coloured materials that reflect, rather than absorb heat.
"We also found reducing the size of skylights or eliminating them entirely can make a big difference, because they let in a lot of heat. If you are going to install a skylight, make sure it's high performance, double glazed and can be opened at night to release the day's heat."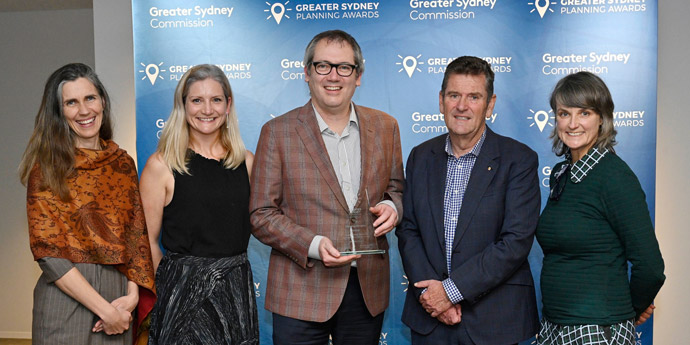 Waverley Council is now working to incorporate consideration of future climate projections into development controls. It has also developed guidance on cooling local homes with external vegetation. The project, which won the Planning Disruptor Award at the Greater Sydney Planning Awards in 2021, and the 2021 Local Government NSW Excellence in Environment Award for Climate Change Adaptation, is now being replicated in other council areas of Sydney.
We can future-proof our homes by adopting passive design principles which have been used for centuries in hot climates around the world.

Rachel O'Leary, Coordinator, Sustainability & Resilience, Waverley Council
Insights for local government
Rachel O'Leary has a clear message for local councils. "We need confidence that the buildings approved today will be safe to live and work in as the climate warms. To design for a warming climate, we must use future, not historic, climate datasets. Our design tools should incorporate future climate data out to 2050 at a minimum."
This project was proudly funded by the NSW Government.