Adaptation tool(s)
Climate smart agriculture
Find out how digital technologies can help farmers become more resilient to climate change and improve farm productivity
I saw the immediate benefits as I no longer had to spend an hour a day manually checking each of the farm's water tanks.

-  Nathan Simpson, Binginbar Farms
Farmers are at the frontline of climate change, particularly in Central West NSW where shifting weather patterns are projected to bring higher temperatures and more intense storm activity over the coming decade.
Water management, heat stress and animal welfare during extreme weather events are growing concerns in the region as producers grapple with changing conditions.
To help farmers and their industries meet these challenges, the NSW Department of Primary Industries (DPI) has conducted a series of on-farm Climate Smart Pilots.
The trials used digital agricultural technologies to help farmers manage climate variability and improve productivity.
At Binginbar Farms at Gollan, near Dubbo, DPI supported Nathan Simpson to trial digital sensors that allowed him to remotely monitor water levels and weather conditions across his 3850-hectare farm. 
Nathan is a sixth-generation farmer growing wheat, canola and barley, as well as perennial pasture to finish up to 70,000 lambs annually.
Like many farms in the area, Binginbar was deeply impacted by the 2017-19 drought. An established feedlot and available fodder helped the farm withstand the dry but Nathan was keen to optimise the farm's efficiency and climate resilience.
"This is where DPI came in," said Matt Pierce, Agricultural Sensing Technician at DPI.
"We were working with Hitachi on an individual animal livestock management program when they introduced me to an on-farm remote sensor network through a collaborative research project between DPI and agricultural enterprise, BRALCA, at Ben Watts' farm, Waidup. I then contacted Ben about replicating it at Binginbar", Nathan said.
"I purchased the majority of the hardware, Ben installed it, and DPI was available for troubleshooting and provided the FarmDecisionTech platform. DPI and this platform was key to bringing it all together", said Nathan.
A LoRaWan gateway connected five tank water sensors and a weather station to the platform. An online dashboard provided data visualisations from each sensor and allowed Nathan to set up notifications, based on sensor thresholds, via email or SMS.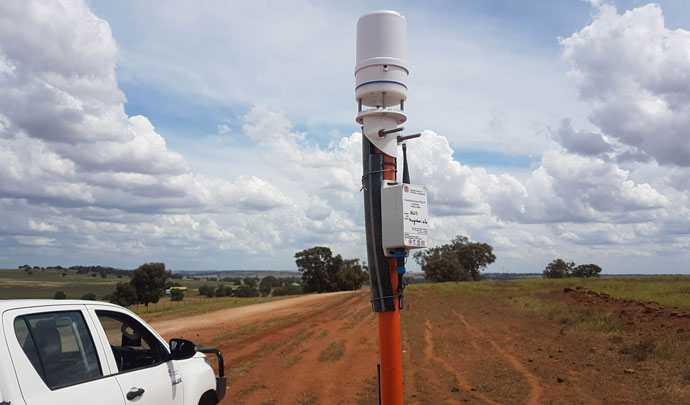 By providing high-quality information specific to Binginbar, the technology reduced Nathan's labour input and took the guesswork out of week-to-week decisions like how many stock to carry and where to carry them.
The platform's notifications system was a significant time and resource saver too, Matt said.
"If a tank sprang a leak and dropped 20 per cent in an hour Nathan could be notified by SMS rather than wait for the daily drive by."
In the longer term, access to real-time soil moisture, temperature, wind, rain, humidity and solar radiation data would allow Nathan to quantify the changing patterns of climate risk unique to his farm.
Binginbar has conducted multiple trials of various feed ration ingredients and stocking densities in the feedlot but found climate was a key variable influencing results. A weather station on site will help Nathan account for climactic influences to achieve best practice livestock management.
This introduction to the potential capabilities of Ag Tech gave Nathan the business case to go out and contract a supplier to completely fit out his farm.
Nathan has now installed sensors on 13 water tanks, 10 troughs as well as 2 automatic weather stations, 6 pressure sensors on pumps, 4 flow metres on troughs and 4 cameras to monitor livestock.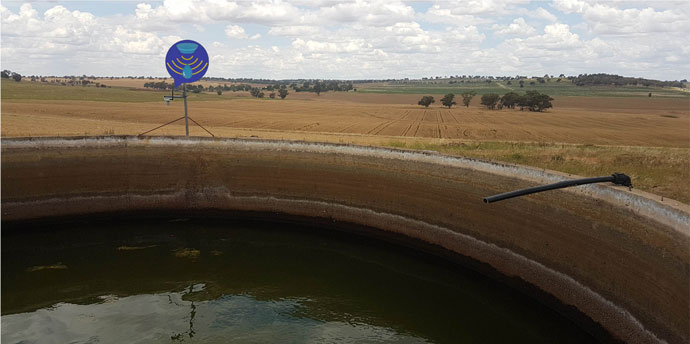 Our pilot of the technologies and our support with both expertise and the FarmDecisionTech platform, built Nathan's trust that these types of systems can work. His confidence to spend big and engage a service provider validates the value of applying technology on farm.
"There is no doubt that without DPI's and BRALCA's support, we would not have seen first-hand what remote sensing could achieve on our own property or the efficiencies we have picked up as a result. It gave us the confidence to spend the capital on installing a more comprehensive network on farm, which is constantly being added to," Nathan said.
This introduction to the potential capabilities of Ag Tech gave Nathan the business case to go out and contract a supplier to completely fit out his farm.

- Matt Pierce, Agricultural Sensing Technician at Department of Primary Industries.
Related information
Climate Change in the Central West of NSW, Dr Andrew Rawston, NSW Government Local Land Services 2016
NSW DPI's Climate Smart Pilots
This project was funded under the CCF, DPI Climate Change Research Strategy.