Local Government NSW Excellence in the Environment Awards highlights the success of practical adaptation 
The Excellence in the Environment Awards aim to acknowledge the environmental achievements of NSW councils. Held annually, with categories covering everything from asbestos management to sustainable infrastructure, the Awards highlight the contributions of local communities in managing and protecting their natural surroundings.
Initiated in 1997 by Local Government NSW's predecessor, the Awards have remained an important measure in recognising the good environmental work of local communities and councils. Over the years, categories have reflected shifts in environmental concern, with climate change and net zero emission objectives moving to the fore of what it means to achieve environmental excellence.
In 2022, The Office of Energy and Climate Change (OECC) sponsored two Excellence in the Environment Awards: The Towards Net Zero Emissions Award, for outstanding work in the field of greenhouse emission reduction, and the Climate Change Adaptation Award, for outstanding achievement in addressing the risks and impacts of climate change.
The Climate Adaptation Award recognises that councils need to be innovative and adaptive when it comes to the management of climate change. The Award places local councils at the core of adaptation action, highlighting that while climate change is a global problem, it requires local solutions that respond directly to a particular region's issues.
As the climate becomes increasingly variable, it is only those initiatives which are malleable and forward-thinking that will be able to withstand the test of time and have sustained co-benefits and positive impact. Integrating climate change adaptation now means that we can safeguard ourselves against costly damages to property in the future and create a more resilient NSW.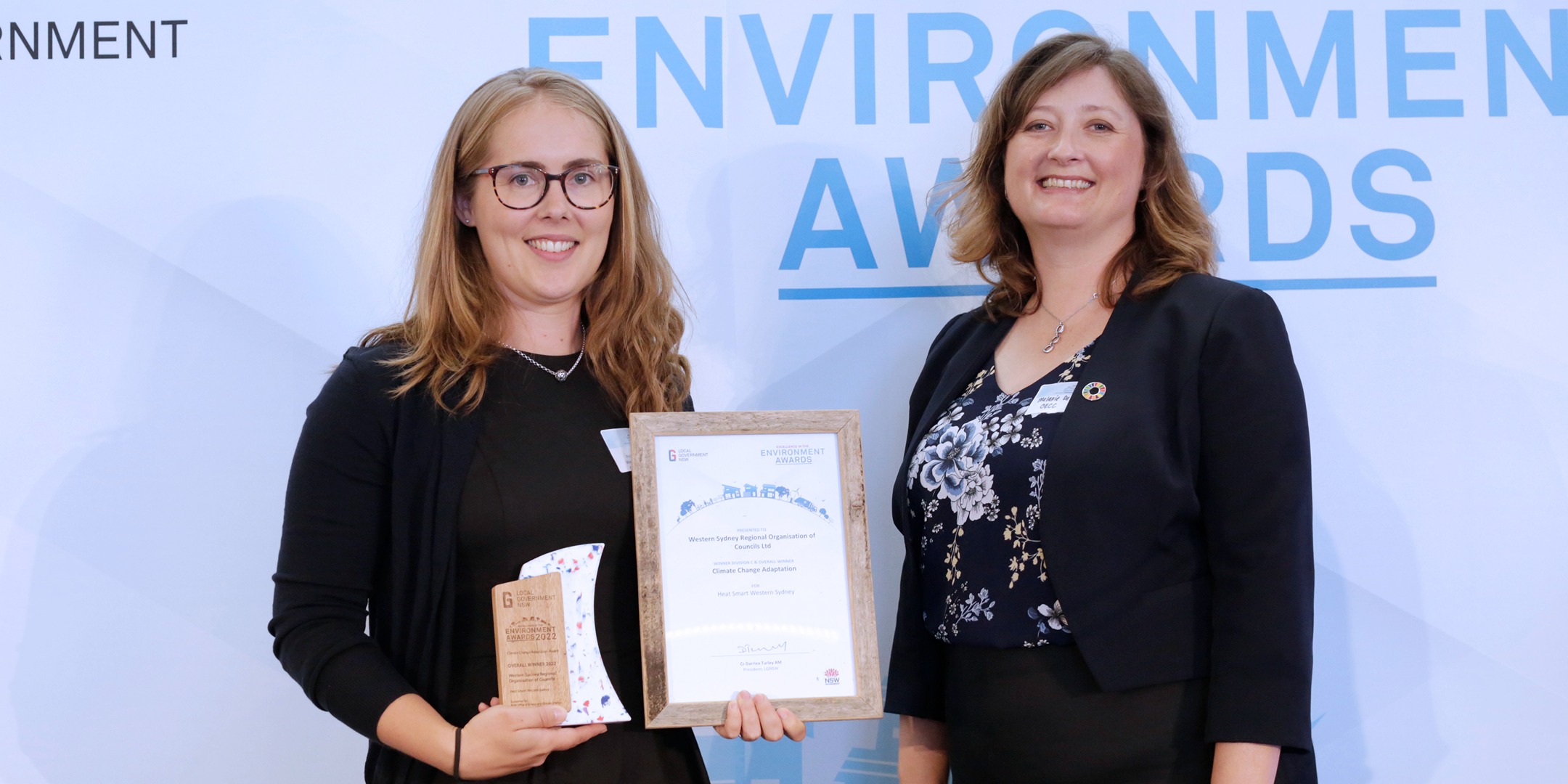 Such was the outcome of 2022 Climate Change Adaptation Award winner, Western Sydney Regional Organisation of Councils (WSROC). Its project 'Heat Smart' not only provided communities with resources to adapt to the heat and build resilience towards its impacts, but also involved co-designing 25 recommendations for improving heatwave governance, mitigation, adaptation and response across five strategy targets:
Take action together
Design and plan to cool the built environment
Innovative and responsive infrastructure
Cool with green space and water
Build a community that is healthy and prepared
Recommendations across the five areas for action included establishing an annual heat research summit to discuss gaps in knowledge around urban heat, increasing green infrastructure, and raising community awareness around the dangers of heat. Each outcome was defined by a measurable time frame for when the target should be met.
Adapting to heat was also the focus of the runners-up, with highly commended awards being given to Blacktown City Council for its 'Heat Response Plan', and to Penrith City Council, for its project 'Cooling the City - planning for heat'.
Blacktown City Council's plan to keep its residents safe during Summer comprised both simple and long-term actions residents could take to combat the heat. Practical suggestions to cool down included drinking water, eating cold foods, and planting trees to increase backyard shading. As part of its Plan, Blacktown City Council also created a number of 'cool centres' to provide refuge for those unable to beat the heat at home. The cool centres were successfully trialled between 2021 and 2022.
As part of its project, Penrith City Council focused on contemporising Council planning controls to ensure that urban heat mitigation is placed at the forefront of future development considerations. Strategies like investing in cool products, increasing green space, and establishing shade and tree planting requirements not only reduces heat – resulting in infrastructure that is able to withstand and adapt to the effects of climate change – but improves liveability for residents. The project also advocated for changes to be made to the NSW planning system which are outside of council authority.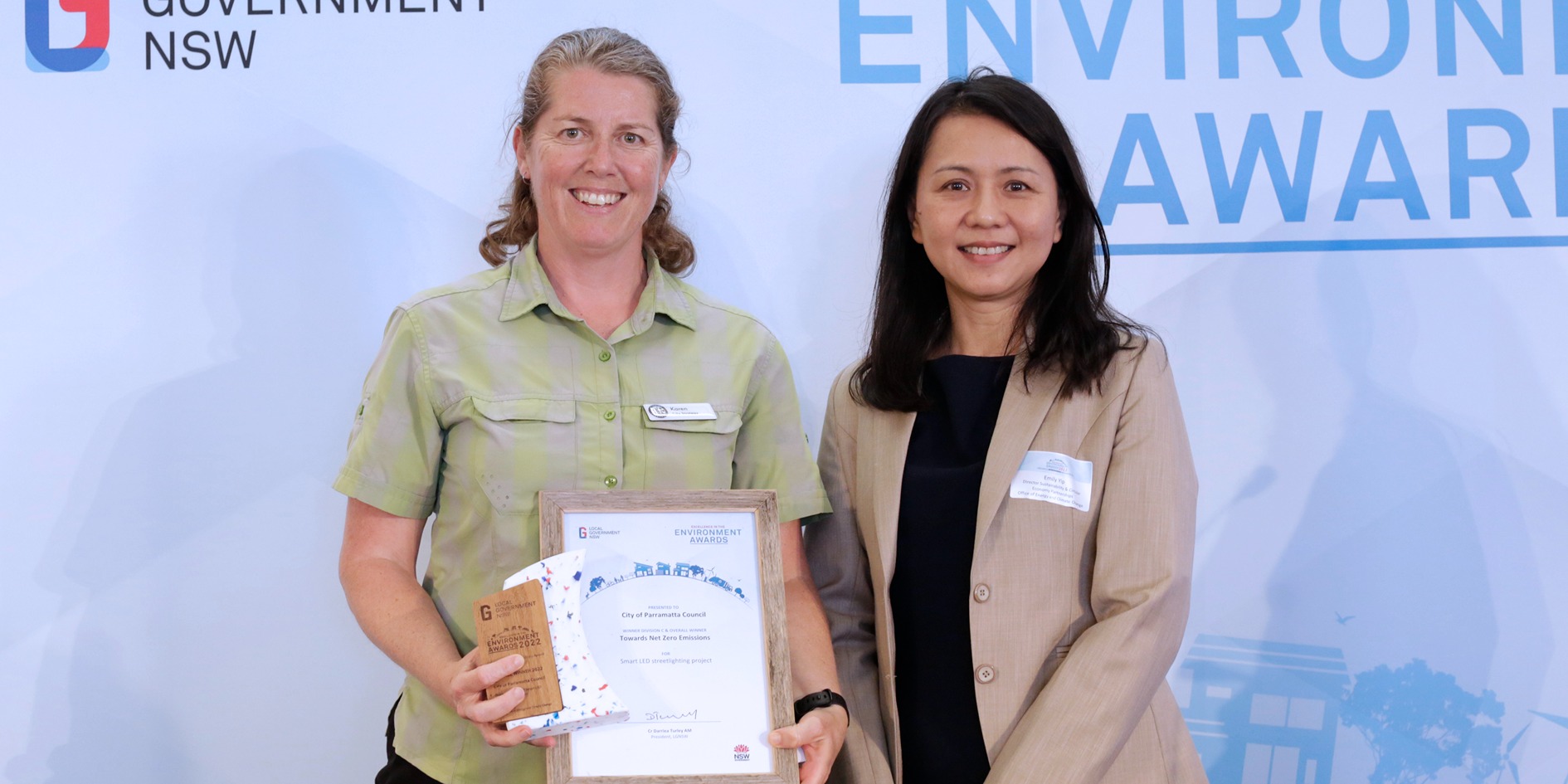 Increasing Resilience to Climate Change grants
Established in 2018, the Increasing Resilience to Climate Change (IRCC) grants provided funding to both local government and community groups to address and respond to the impacts of climate change.
The grants were administered by Local Government NSW, and 32 projects at a cost of $2.8 million, over three rounds, were funded by the Climate Change Fund. The grants enabled local government across NSW to enhance adaptive capacity and respond to climate change in their regions. The grant projects have been diverse, addressing everything from heat adaptation and environmental resilience to health awareness and sustainable development.
'Tackling Mosquitoes Together' – Tweed Shire Council and others
The IRCC grants have been instrumental in assisting local councils to implement projects that address climate risks and progress work beyond business as usual.
For example, IRCC grant recipient Tweed Shire Council (in collaboration with Local Government NSW, the NSW Government, the NorthCoast Public Health Unit, and Ballina, Byron, Clarence Valley, Kyogle, Lismore and Richmond Valley councils) used its funding to manage the risk of disease-carrying mosquitoes in the Northern Rivers of NSW. Created via a process of co-design, 'Tackling Mosquitoes Together' aimed to change the behaviours of Northern Rivers communities by raising awareness of the dangers of mosquitoes. 
Execution was simple. 'Tackling Mosquitoes Together' involved the delivery of text messages, print resources and repellent to residents to help them reduce mosquitoes around the home, as well as teach them how to stay safe when dealing with mosquitoes.
The campaign was a resounding success. In fact, 'Post-campaign surveys found 71 percent of people had checked their backyard for mosquito habitats … and 93 percent were confident they knew how to identify and remove mosquito habitats from their backyards,' said Tweed Shire Council's Environmental Health Officer, Kelly Piazza.
Read the case study: How the Northern Rivers is tackling mosquitoes together.
'Shelter, Don't Swelter!' – Link Wentworth Community and Penrith City Council
With 'climate modelling predicting that by 2070 communities in Western Sydney will swelter through an additional 20 days of 35°C or more over the course of a year', it is no surprise that Link Wentworth Community and Penrith City Council used their grant to focus on building community heat resilience. 
'Shelter, Don't Swelter!' is a resource series to assist Western Sydney and social housing residents manage the summer heat. Co-designed with residents, the campaign offers creative cooling solutions for those who do not have access to or cannot afford cooling systems.
'Residents suggested lots of clever ideas, from placing a bowl of ice in front of fans to laying down a cool towel on the bed before you go to sleep,' said Link Wentworth's Sustainable Communities Officer, Vanessa Tomas.
Like the 'Tackling Mosquitoes Together' campaign, 'Shelter, Don't Swelter!' showcases just how simple climate adaptability and building community resilience can be.
Building bushfire resilience – Canberra Region Joint Organisation (CRJO)
When it comes to larger-scale adaptation, access to funding can oftentimes be the difference between a project being viable, and it being financially impossible to get off the ground. After the devastating bushfires across the Canberra region in 2003, followed by 'Black Summer' between 2019 and 2020 (which resulted in the destruction of 5.5 million hectares of land), CRJO recognised that something needed to be done to build the bushfire resilience of housing in its region.
Using its IRCC grant, CRJO was able to lead a larger-scale adaptation project, aimed at advancing the adoption of climate resilient housing across the Canberra region. The project was conducted in two main stages:
1. Technical investigation
Edge Environment and over 30 experts banded together to assess the bushfire resilience of housing in the Canberra region. Using the Building Resilience Rating Tool and the Building Resilience Knowledge Database, they found that bushfire resilience of homes across CRJO's region was poor, with 'around 60% of properties scoring 2 stars or less on a 5-star scale'.
They then looked at whether the benefits of retrofitting these homes outweighed the cost, discovering that making the houses more bushfire-resilient won-out over expenditure every time.
2. Toolkit creation
CRJO then designed a toolkit based on the investigation's findings. The toolkit encourages homeowners and councils to make informed decisions when building or renovating a home, by providing them with knowledge about the risks of flammable housing materials and highlighting more resilient building alternatives.
Through the IRCC grant, CRJO was able to 'build adaptive capacity and resilience to current and future risks'at.'
Read the case study: Building bushfire resilience and stronger communities
Combating and adapting to climate change is a multi-layered approach. Local Government play a crucial role in developing adaptation solutions, with community, that respond to region specific hazard exposure and vulnerabilities. The examples above show many of the effective and innovative adaptation solutions that Local Government have developed and are now implementing.
As Judith Bruinsma, Project Coordinator of WSROC puts it, "councils, state governments, industry and the community must work together to adapt, respond and build our resilience to extreme heat".
As the climate becomes increasingly variable, it is only those initiatives which are malleable and forward-thinking that will be able to withstand the test of time and have sustained positive impact.
NSW Government was a sponsor of the 2022 Local Government NSW Excellence in the Environment Awards