Addressing climate change can seem overwhelming and complex, but at the community level the solutions are surprisingly simple.
Connection to Country can solve some of the health problems associated with colonisation. But going back to traditional ways of looking after land is also important as we address climate change.

Dr Sujata Allan
When Dr Jennifer Hamilton and Dr Sujata Allan started looking for ways to help their community adapt to a changing climate, the solution unfolded after a series of conversations.
Jennifer, a senior lecturer in English Literary Studies at the University of New England, and Sujata, a general practitioner and member of Doctors for the Environment, had already seen the toll that a warming, drying planet was taking on their communities following years of drought.
Climate change, as the World Health Organization notes, is harming human health. Extreme weather events, disruption to food systems, greater risk of disease and increasing mental health issues are causing more deaths and illness around the world.
But Aboriginal people already experience a high burden of chronic disease which makes them more vulnerable to climate stressors like heatwaves and air pollution from bushfires, and to mental health conditions that stem from the complex stressors of colonisation and intergenerational trauma.
Addressing chronic disease and mental health issues in a holistic way is not an easy task. But the Armidale Climate and Health Project – facilitated by Jennifer and Sujata on behalf of the Community Weathering Station, Armajun Aboriginal Health Service, the University of New England and Sustainable Living Armidale – has found small-scale solutions that sit at the intersection of climate resilience and Indigenous health.
The first step in the project's success was a series of one-on-one conversations with Aboriginal leaders and the broader community. These conversations unfolded slowly to give the project team time to listen and learn.
We entered this project looking for solutions beyond 'just another community garden' and we found that variations on that idea is what our communities want and need.

For Indigenous people this means being on Country; for non-Indigenous people it means being in community gardens. Both practices support nutrition, connection with nature, better mental health and social cohesion, and builds climate resilience.

Dr Jennifer Hamilton
The COP26 Glasgow pact notes the importance of incorporating Indigenous knowledge into climate solutions, and that Indigenous peoples steward 80% of the world's remaining biodiversity. As custodians of the land for millennia, Aboriginal people have a wealth of knowledge that can inform the design of programs to reduce emissions.
"We didn't want to start the project with fixed ideas. Instead, we wanted to ask what would benefit community health and climate change at the same time, and gauge people's understanding and ideas," Jennifer says.
What did the Armidale Climate and Health Project team discover?
"We found Aboriginal access to Country heals land and heals people at the same time," Sujata says.
Indigenous people were clear that being able to access and forge connection to Country addressed many of the health problems associated with colonisation and dispossession. Feedback from non-Indigenous people was just as emphatic about needing meaningful connections to land and place.
"Working with soil and plants in a community garden helped non-Indigenous people feel more connected to the land and to people," Jennifer notes. Community gardening builds social cohesiveness, increases access to fresh food, improves mental health and reduces the climate impact of our food system, she adds.
Following the consultation process, a series of six workshops and a festival were co-designed to share knowledge and stories, and to build strong connections across previously siloed communities.
One workshop, a creek walk, explored the importance of water to health and ecosystems, and the Indigenous connection to land, water and country. Facilitated by Jennifer and Uncle Steven Widders, the workshop led participants on a reflective walk along the creek before a symbolic 'handing back' of water from the dam to Dumaresq Creek.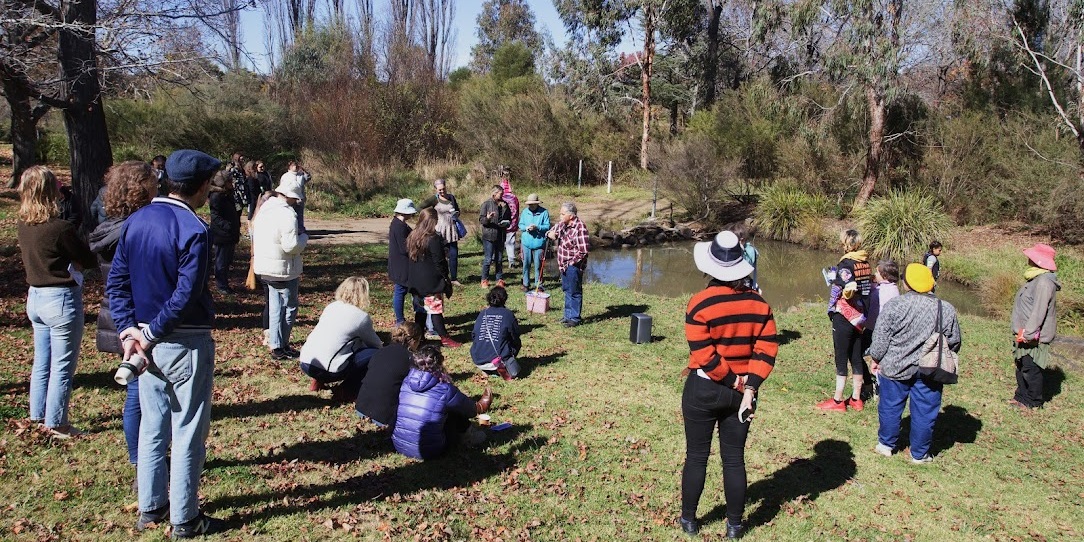 Another workshop gathered local food producers, organic food retailers and community leaders to map out and expand Armidale's local food network.
An online workshop for health professionals, co-organised by the Hunter New England and Central Coast Primary Health Network and the New England Division of General Practice and delivered by Sujata and Dr Gerard Brownstein, unpacked the links between climate change and health. Participants were offered practical sustainability options that they could embrace in their own practices.
The project culminated in the Home Grown Garden Tour – a weekend celebration spread over homes and gardens in Armidale to showcase small-scale gardening, food production and community gardens. More than 250 people attended the festival, which started with a Welcome to Country at the Aboriginal Community Garden.
Momentum from Armidale Climate and Health Project continues to grow. After years of lying dormant, the Aboriginal Community Garden has been revitalised and a range of groups are using it as a meeting place. A host of other projects to expand the network of local food options and to strengthen community partnerships are underway.