Adaptation tool(s)
Citizen science, scientific monitoring
Learn how a citizen science program uses smartphone photographs from beach-goers to monitor changes in NSW coastlines over time.
CoastSnap harnesses the hundreds of photos taken each day along New South Wales' beautiful coastline to understand how beaches are changing over time.

- Dr Michael Kinsela, Scientist, Coastal & Marine Science
Starting with two New South Wales beaches in 2017, CoastSnap has expanded around the world and now has more than 100 sites in far-flung locations from Ghana to Great Britain to Brazil.
CoastSnap is a low-cost community beach monitoring technology that turns the smartphones found in most people's pockets into powerful coastal monitoring devices.
"Citizen scientists are helping us to gain a better understanding of beach dynamics in response to extreme storms and sea level rise. An educated and engaged community is key to adaptation. As people learn more about coastal dynamics, they can take that knowledge into local decision-making." explains Dr Michael Kinsela, the project's senior scientist.
In 2017, the UNSW Water Research Laboratory and the NSW Government began working together to develop a tool and technique at two pilot sites at Manly and North Narrabeen beaches. Innovative photo-point cradles were devised to turn smartphones into precision beach monitoring tools.
Locals on their morning walk or visitors soaking up the view can submit their photos to the CoastSnap app. These photos are then automatically analysed to map the beach and shoreline position.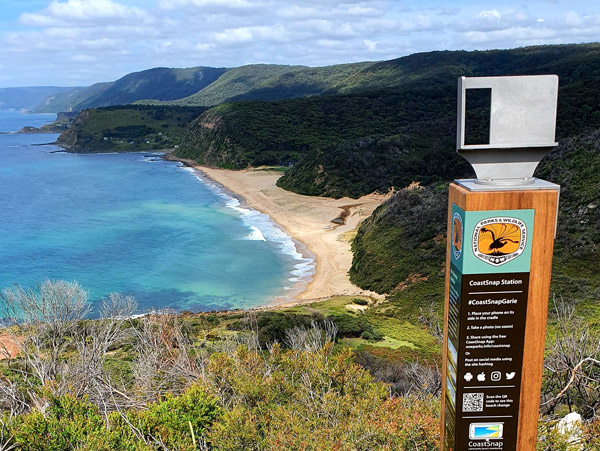 "By fixing the position and angle of your phone with our unique photo-point cradles, all community photo records are captured from the same location, and anyone wandering by the beach knows where to stand."
Michael says citizen science – the practice of public participation and collaboration in scientific research – is helping to build records of how beaches erode and recover over time.
"The community shoreline mapping is similar in accuracy to professional surveys using GPS equipment, but without the cost. We now have over 20 CoastSnap sites along the New South Wales coast and are expanding throughout our national parks, which represent almost 50% of New South Wales' coastline," Michael explains.
The amount of sand on the beach and in the surf zone is constantly changing. Sand bars migrate in and out and change their shape in response to changing waves and tides. By mapping beach change over time using CoastSnap we can learn how different beaches respond to changing ocean conditions. We can use this information to detect the influence of long-term environmental changes such as sea level rise.
Michael is a coastal scientist who uses field studies, spatial analysis and numerical modelling to investigate our evolving coastlines, especially in response to extreme storms and climate change.
Global sea levels are rising and increasing the risk to coastal communities from inundation and erosion. Depending on the rate and scale of sea level rise, the environmental, social and economic consequences can be significant.
The long-range datasets being collected by CoastSnap gives scientists and managers a much deeper understanding of coastal erosion and the impact of climate change.
"Is beach erosion within the natural range of variability? Do we need to consider sand nourishment to stabilise beaches? These are the sort of questions we can answer with long-term data sets," Michael says.
Beach systems are "very sensitive" to water levels, Michael adds. "People will often say 'we've always had big storms', but we can now track the variability of the beach over time and see what this means.
"Just 20 or 30 centimetres of extra water can translate into tens of metres more erosion, which means a storm of similar strength 30 years ago will have a far greater impact as sea levels rise," he explains. Michael says CoastSnap has confirmed how passionate people are about their coastlines.
People want to play a role in creating a record and understanding how their beach will change. As people learn more about coastal dynamics, they can take that knowledge into local decision-making. We need everyone – scientists, governments and communities – to work together to improve how we manage our treasured coastal environments.

- Michael Kinsela
This project was proudly funded by the NSW Government in collaboration with the UNSW Water Research Laboratory