Climate change effect:
Heat, rainfall, extreme weather, and sea level rise
Who it affects:
Communities, local government
Adaptation tool(s):
Scientific monitoring, community engagement
Northern Rivers councils are strengthening their resilience to climate change with measures to counteract mosquito-borne diseases
A fast, response incorporating mosquito surveillance and control, and community education, will greatly reduce the risk of mosquito-borne disease outbreak.

- Kelly Piazza, Environmental Health Officer at
Tweed Shire Council
Each year, hundreds of residents in the Northern Rivers region of NSW are infected with Ross River virus and Barmah Forest virus, often suffering debilitating illnesses as a consequence. Climate change is expected to exacerbate the already high incidence of these mosquito-borne diseases with projected increases in temperature, rainfall and tidal flooding producing more abundant and diverse mosquito populations.
Additionally, the potential for new types of mosquitos to spread into the Northern Rivers region poses a serious public health risk with some species capable of spreading the Dengue, Zika and chikungunya viruses.
In response, Tweed Shire Council has collaborated with six local councils and the Northern Rivers NSW Public Health Unit to reduce the threat of mosquito-borne disease through research and adaptation actions. 
Tackling Mozzies Together aims to reduce mosquito exposure by targeting backyard mosquito habitats and supporting community behaviours to reduce mosquito numbers and lower mosquito-borne disease risk.
The project established a multi-pronged mosquito surveillance and control program with the establishment of a rapid response network and the Northern Rivers Exotic Mosquito Response Plan.
The plan was informed by community surveys and a two-day mock outbreak scenario that saw council and health workers inspect more than 300 backyards in Pottsville and Tweed Heads West.
The field exercise sought to understand the enablers and barriers to acting quickly and in advance of a potential threat. A key finding from 89 surveys conducted during the exercise showed broad awareness, but low understanding, of mosquito-borne disease risk with only 30% of respondents considering Ross River virus to be a problem in the area.
A citizen science survey of 647 properties found almost 4000 water holding containers, most commonly roof gutters, pot plants, bromeliads and buckets, of which 11.6% were positive for mosquito larvae. This was a significant finding as it highlighted the diversity of potential habitats for both local container-inhabiting mosquitoes and, most importantly, the exotic mosquitoes that bring greater health threats.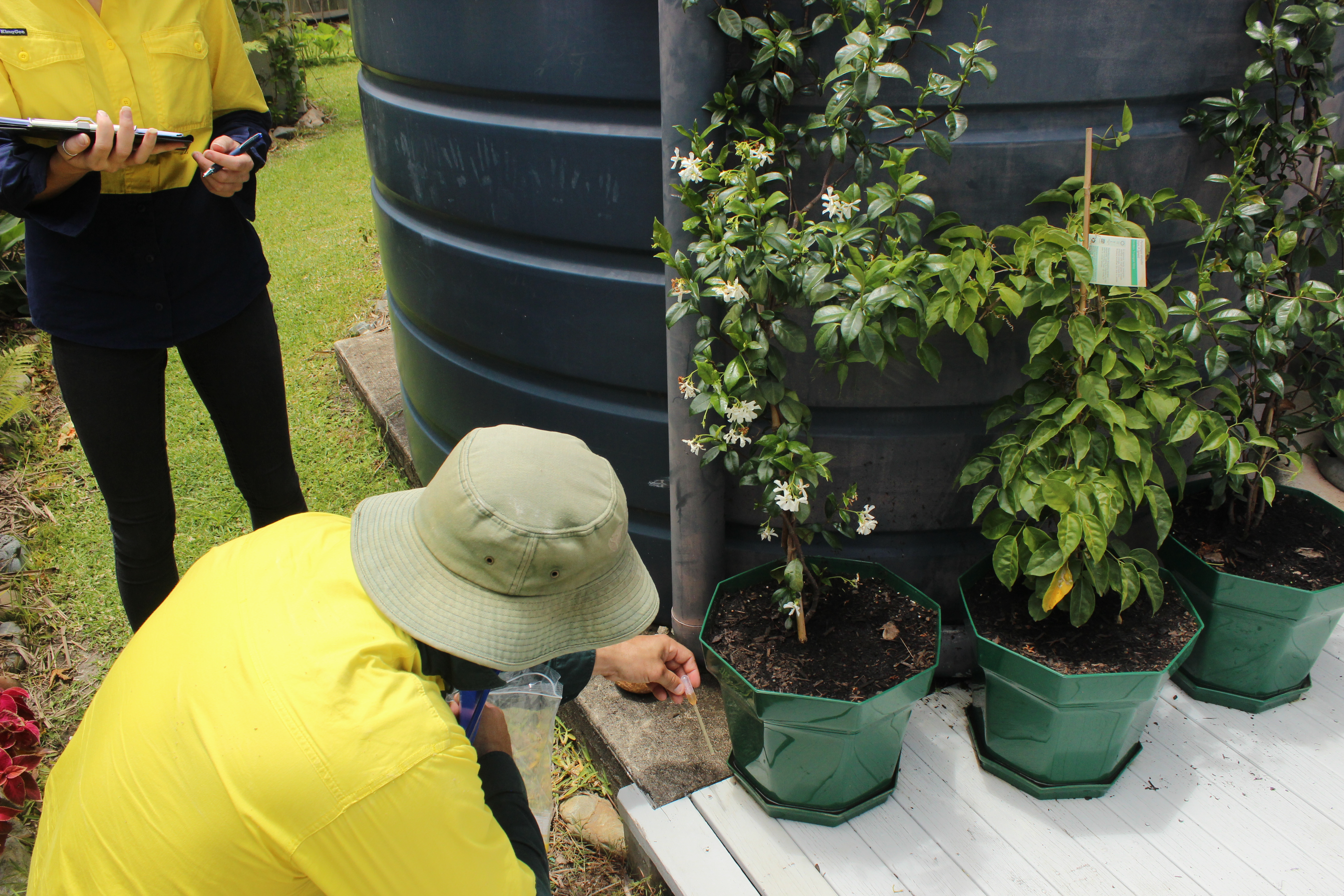 An online survey of more than 700 residents showed that 80% of respondents used synthetic mosquito repellents but almost half would be unwilling to have insecticides applied on their properties out of concern for their own health and that of pets and wildlife.
The project results showed the need to move quickly in the event of an exotic mosquito incursion.
"However, there is unlikely to be a one-size-fits-all approach and the specific approach applied to a local area will rely on understanding the specific mosquito risk as well as the capacity of local stakeholders and attitudes of the community" said Kelly Piazza, Environmental Health Officer at Tweed Shire Council.
For threats associated with local mosquito-borne disease, the Tackling Mozzies Together project identified some gaps in community knowledge about mosquito risk and mosquito-bite prevention measures. Targeted education programs designed to change the behaviours of the community will greatly assist in reducing pest and public health risks.
The next step is already underway with the Tackling Mosquitoes Together text messaging service. Supported by a regional education and media campaign, the program promotes positive behaviour changes with text messages offering tips and prompts to reduce mosquito exposure risks.
This project was proudly funded by the NSW Government with support from Local Government NSW.