The Climate Adaptation conference took place in Adelaide on 23 July – 27 July 2023 and was hosted by the National Environmental Science Program (NESP) Climate systems hub. 
The conference is Australia's foremost gathering dedicated to exploring climate vulnerability, impact and adaptation. The NSW Government contributed as a Silver Sponsor, with delegates attending and presenting from across the agency.
Presentations from the plenary sessions are available here.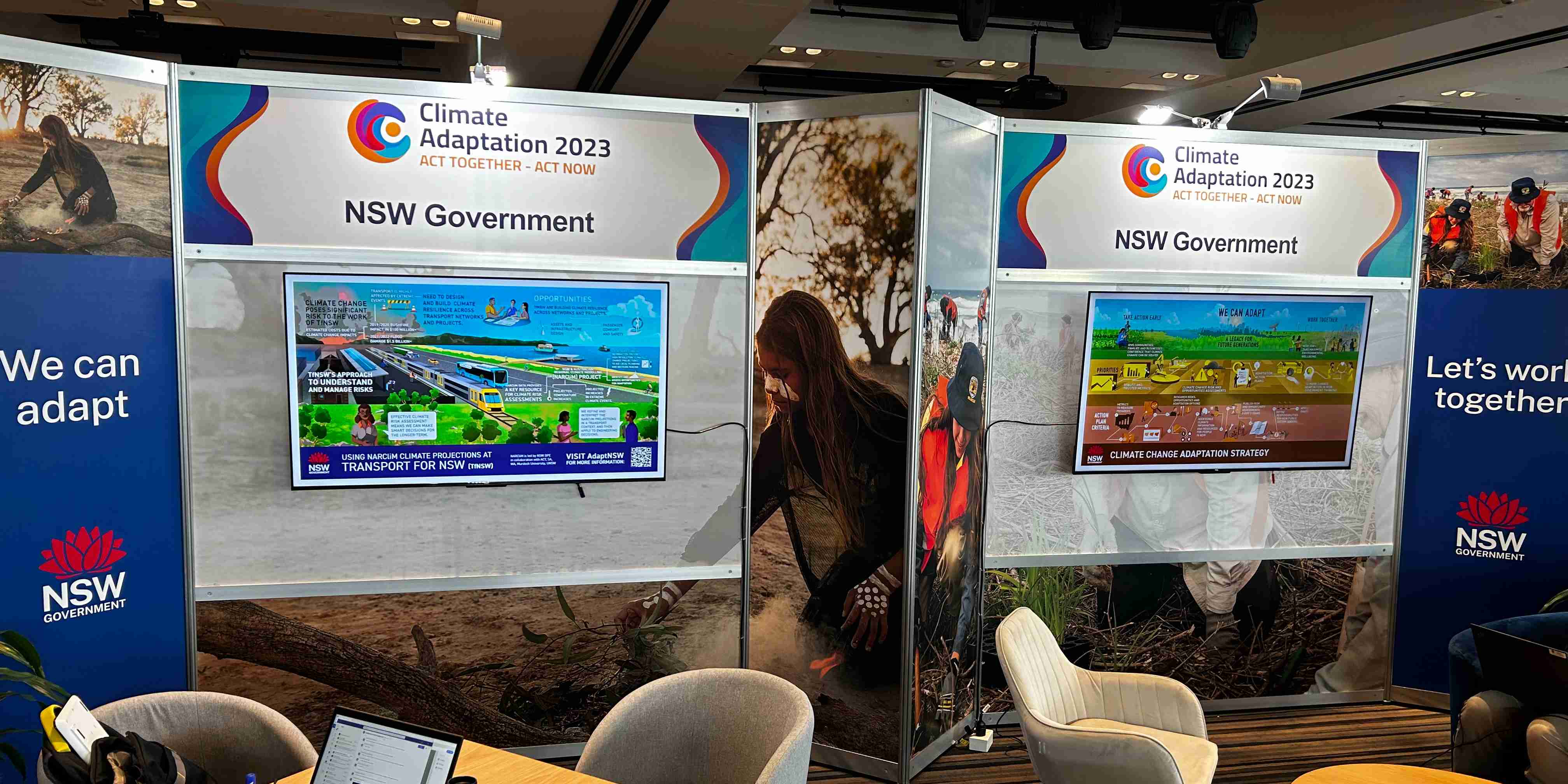 Praise for Climate Adaptation Conference 2023
We asked NSW Government staff what they enjoyed about attending the conference
'[this was an] opportunity to learn what the Commonwealth is doing and thinking and how we can work together. I enjoyed being in real life with like-minded people.' - Michelle Dawson, Cultural and Ecosystems Adaptation
'The Conference overall was very stimulating and perfectly timed. It provided a great opportunity to hear the variety of work that has been done, areas earmarked as priorities or gaps, and feel inspired by the work of a range of people and institutions that have kept the metaphorical fire burning during times that were politically speaking cold on climate adaptation'. - Dr Claudine Moutou, Social Research
'I enjoyed the opportunity to connect with other colleagues, scholars and practitioners from different places and perspectives'. - Leah Emmanuel, Climate Preparedness
Insights from NSW Government staff 
NSW Government staff shared their insights across two panel sessions and contributed to other sessions including:  
Panel: Not just models… Data use informing climate change
This session provided key insights into diverse methods for risk assessment and enhancing understanding of climate change adaptation. Topics covered included the latest research, tools, and frameworks used by experts.   
Chair: Matthew Riley,  NSW Department of Planning and Environment 
Dr Aaron Coutts-Smith, Office of Energy and Climate Change, NSW Treasury    

Dr Claudine Moutou, Office of Energy and Climate Change, NSW Treasury 

Dr Fahim Tonmoy, Deloitte   

Sharna Nolan, WA Government   
Note: Unfortunately the recording is not available. 
Panel: Adaptation strategies across Australia
Investigate how states across Australia are collaborating for adaptation. The session highlights innovative approaches and strategies to address climate challenges.
Chair: Dr Aaron Coutts-Smith, Office of Energy and Climate Change, NSW Treasury
Jamie Ash, Office of Energy and Climate Change, NSW Treasury
Sarah Russell, Tasmanian State Government   

James Duggie, Western Australia State Government   

Kathryn Smith, Commonwealth Government  

Neil MacFarlane, South Australian Government 
Note: Unfortunately the recording not available. 
Other sessions
Climate ready revegetation trials in NSW - lessons from a partnership with three Landcare groups by Michelle Dawson  

Incorporating climate risk and adaptation into NSW Marine Park planning by Coral Latella 

Introducing NARCliM2.0 CMIP6-forced regional climate projections: a dataset to underline climate impact adaptation in Australia by Dr Giovanni Di Virgilio  

Thinking outside the box. How risk quantification can inform prioritisation and strategic decision-making for adapting assets and infrastructure by Dr Aaron Coutts-Smith  
Understanding adaptation through social research by Dr Claudine Moutou  

Adaptation to air quality change from climate change scenarios in Sydney metropolitan areas and New South Wales by Dr Hiep Duc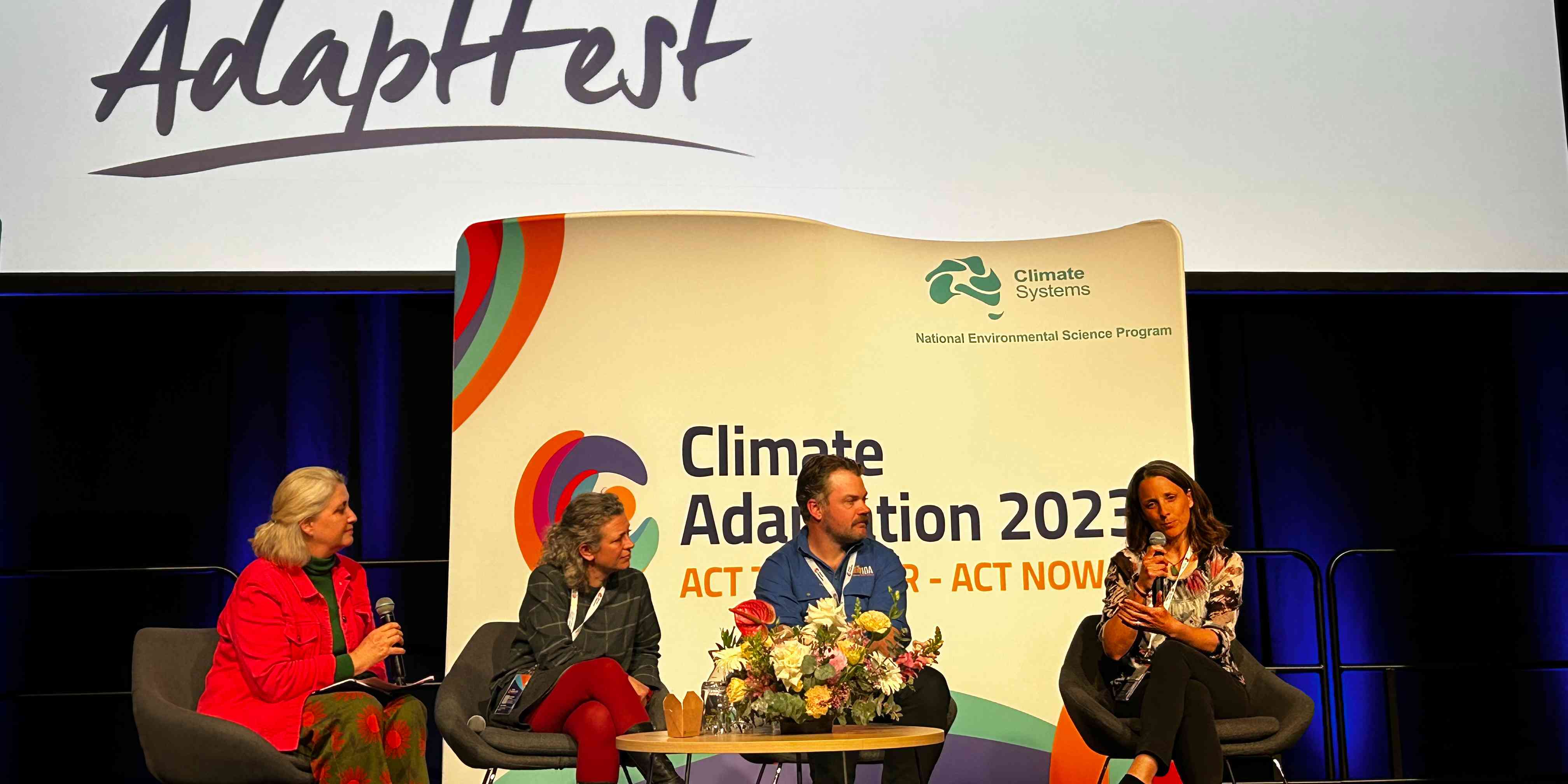 Adaptfest: Adaptation Film Festival
The Adaptfest film festival shone a light on the people on the frontline of adaptation. The NSW Government presented three short films, showing some of the success stories of its involvement in communities engaging in adaptation. We are pleased to present the short films for you to enjoy. 
Want more adaptation events? 
Join AdaptNSW at the 2023 AdaptNSW Forum taking place 4 - 5 December at UTS Aerial Sydney.   
The NSW Government was a Silver Sponsor for the 2023 Climate Adaptation conference.