Climate change effect:
Heat
Who it affects:
Community groups
Adaptation tool(s):
Research
Intuitively, we know trees make our streets feel cooler – but now we have the evidence that trees can reduce pavement temperatures by more than 15°C on our hottest days.
We have built a strong evidence base for the benefits of cool materials, vegetation and shade, especially in combination. We also have evidence of energy savings and of the types of buildings where these savings would be greatest.

Mark Watson, Sustainability and Climate Resilience Officer, Blacktown City Council
Sydney's inland suburbs are already 10°C warmer than the coast in heat waves – and climate modelling predicts that communities in Western Sydney will swelter through an extra 10 days of 35°C or more in the years ahead.
"Western Sydney has a big problem and it's getting bigger," says Blacktown City Council's Sustainability and Climate Resilience Officer, Mark Watson.
"We know extreme heat has many negative consequences for human health and comfort, the usability of our outdoor spaces and the amount of energy needed to cool our buildings."
Looking for solutions, Blacktown City Council teamed up with the University of New South Wales to investigate cooling strategies that could reduce ambient temperature in Mt Druitt's Dawson Mall.
"We chose Dawson Mall because it is a popular open-air shopping mall where Blacktown City Council will soon consider designs for urban revitalisation," Mark explains.
Night-time temperatures can be 2.5°C hotter than at the Bureau of Meteorology's station of Horsley Park, "and this difference can affect residents' health".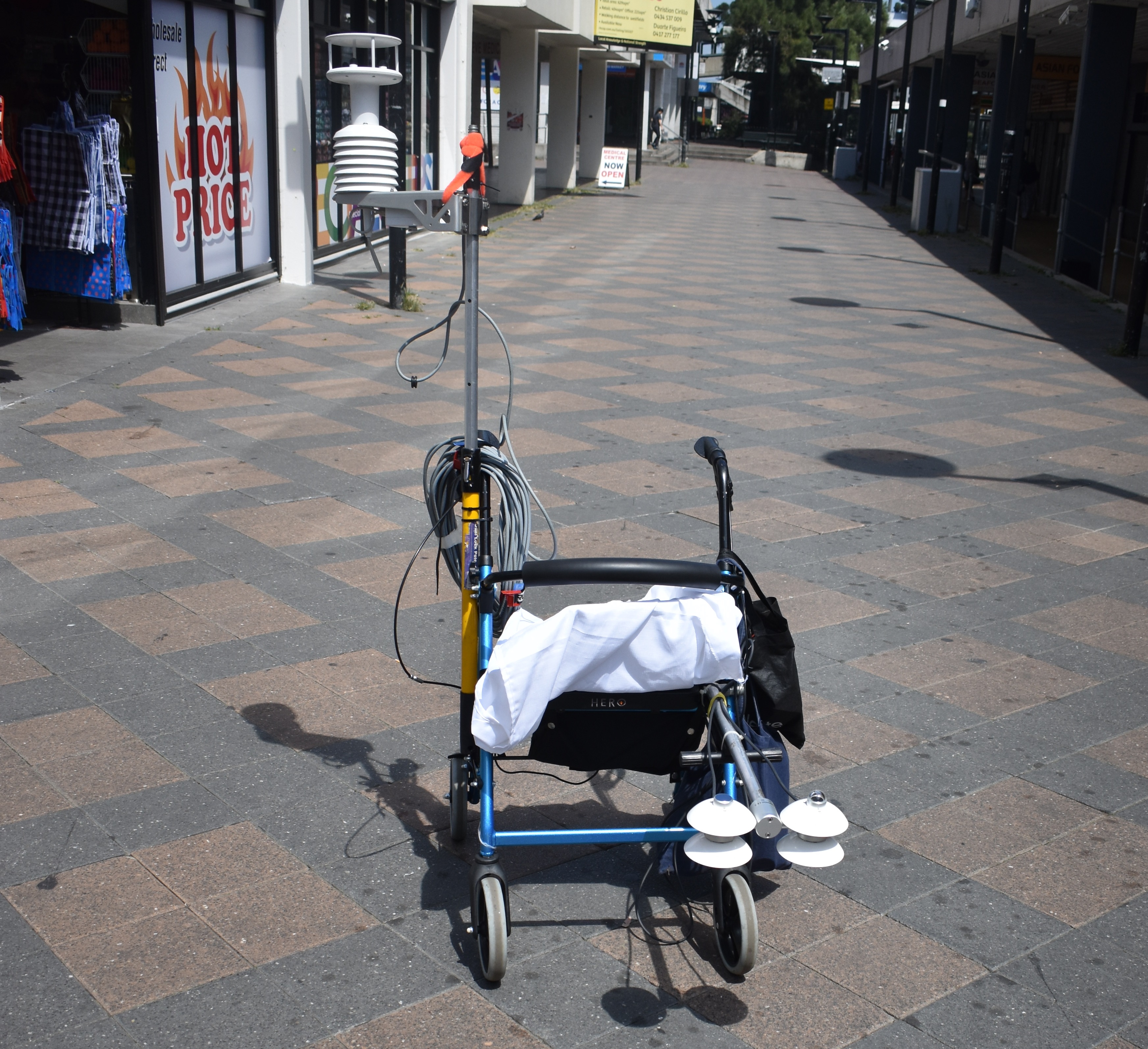 The research team, led by Dr Riccardo Paolini, installed a network of eight temperature and humidity sensors in and near Dawson Mall to monitor the local conditions for more than a year. Detailed measurements were also taken on a hot day with mobile weather stations and a drone equipped with a thermal imaging camera.
By collecting such detailed site data, the research team could shed light on real-world outcomes in the microclimate of Dawson Mall.
Five scenarios were assessed for their climate resilience with the help of microclimate simulation modelling: unirrigated greenery; irrigated greenery; cool materials; a combination of all three interventions; and a base case where no efforts were made to mitigate the effects of heat.
The research found, unsurprisingly, that the biggest reduction in air temperature was achieved by combining the three interventions. Installing street trees, using cool materials and shading car parks could reduce ambient air temperature by 1.24°C.
But investment in cool materials alone could reduce temperatures by as much as 1.17°C. Trees along Dawson Mall also reduce the pavement temperature by more than 15 °C, improving comfort and people's perception of heat.
The research found the cooling energy needs for buildings in Mt Druitt can be up to 40 per cent higher than in the nearby Horsley Park. While this depends on several factors, like the insulation level of the buildings, the research confirms that the people of Mt Druitt suffer an "energy penalty".
A "cool" roof – one which is made from reflective materials – can achieve significant energy savings, especially in poorly-insulated low-rise buildings like offices.
"Our research shows that simple interventions, like the choice and colour of materials, cost nothing and have clear benefits."
The researchers also found that air temperature reductions of 2.9°C were possible – but only through a Sydney-wide application of heat mitigation, including the irrigation of greenery.
"We don't have a 'heat island' anymore. We have an urban heat zone. We need to move beyond this idea of islands because our places are all interconnected – and we need interconnected solutions," Mark concludes.
It's one thing to have a gut feel, it's another to have the data. We now have the research to influence the planning process and achieve better outcomes for our residents.

Mark Watson, Sustainability and Climate Resilience Officer, Blacktown City Council
Insights for local government
The research offers insights and recommendations for other local councils considering their planning provisions. The data confirms that reflective roofing is a smart strategy at both the individual building and the urban scale, and that cool materials for both roofs and pavements can work in harmony with street trees. 
"We know heat mitigation strategies work best in combination. We have to stop thinking about urban heat islands and start thinking about urban heat zones – and that means looking at mitigation strategies, like irrigation and trees, across our metropolitan areas," Mark concludes.
This project was proudly funded by the NSW Government.