Climate change effect:
Heat, extreme weather, flood, sea level rise
Who it affects:
Communities, health and wellbeing
Adaptation tool(s):
Advocacy, Community engagement, education
Learn how an arts project empowered young people to transform their climate anxiety into climate resilience and confidence to take action
Our emotional responses to climate change are healthy reactions to an unhealthy state of the world. It is not about pushing our emotions down but learning how to engage with them to feel empowered to take positive action and be in community rather than divided.

- Dr Eshana Bragg, Director of The Joyality Project
The How on Earth project combined theatre and workshops to explore the different ways young people are reacting to climate change and to transform feelings of indifference, anxiety or rage into connection and action.
The project was a unique collaboration between Byron Youth Theatre, and The Joyality Project.
The leadership course in climate resilience, run by The Joyality Project, supported 18 participants aged 14 to 25 to recognise their own strengths to help peers, family and communities build resilience to the impacts of climate change. 
In feedback to Joyality, one graduate said:
I have gained so much more than just leadership qualities to help others, but personal strategies to deal with negative feelings toward climate change.
And another that the training provided the confidence to "reach out and take action."
In a radio interview, a 14 year-old graduate, shared five communication hacks she learned for having climate conversations: "I know what I know. I dare to care. I am not alone, I respect and connect. I inspire action but I don't expect it."
The seven-week leadership program included weekly evening sessions held online and in person plus a full day workshop across the themes of leadership, resilience, 'stay awake!', 'connect!' and peer support.
The How on Earth 1 theatre-workshop package was performed in two high schools in the Byron Shire in August 2020. The performances explored different effects of eco anxiety.  Byron Youth Theatre used dark comedy, poetry, choreographed sequences, and monologues to convey this.
Workshops followed where students shared their reactions to the scenarios and learned skills to manage their feelings and take positive action. COVID-19 prevented the team staging more live performances. 
Byron Youth Theatre performed How on Earth 2 for five high schools and two sold out public audiences in November 2020. The full length play used projections and a haunting soundtrack which followed a young woman and her friends connecting with a parallel world, to seek answers on how they can navigate their changing climate.
Byron Youth Theatre director, Lisa Apostolides developed both scripts based on interviews with cast members and other young people about their experiences of eco-anxiety, climate change and the pandemic.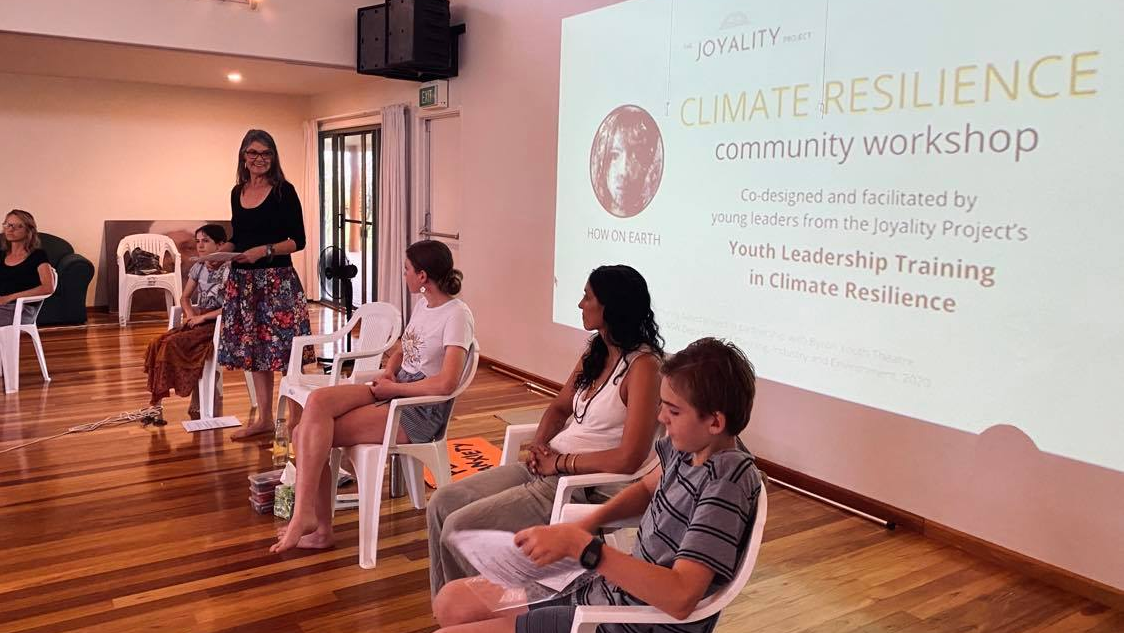 A week after How on Earth Part 2, youth leadership graduates co-led an interactive workshop with audience members to explore their thoughts and feelings and to inspire climate resilience. They also produced a video package to share with high schools unable to host a live workshop.
"I was involved in research with parents and teachers in the Northern Rivers region that found 67 per cent reported caring for children experiencing high to very high levels of anxiety about climate change impacts," said eco-psychologist Dr Eshana Bragg, Director of The Joyality Project.
Some young leaders have gone on to volunteer in Northern Rivers community action organisations, be active in their high school communities and speak on community radio with one grad starting her own radio show on positive climate responses.
Dr Bragg said she had also received feedback from veteran campaigners that the addition of young people to their ranks had given them renewed hope and energy.
The unique youth-led theatre-workshop model is currently being rolled out across high schools in the Clarence Valley region of NSW to explore its portability and How on Earth is included in the local plunge Arts & Culture Festival.
This project was proudly supported with funding by the NSW Government.